Sketchbook Explorations: Watercolor Backgrounds and Line Drawing
All levels
|
1 hour 9 min
Getting started in a new sketchbook can be the biggest hurdle in the creative process. In this introductory class, Lisa shares tips for selecting a sketchbook that is just right for you. She also shares techniques for working with watercolor paints, then shows how to draw over the paint with Micron pens. This class is all about embracing multiple mediums and adding layers of detail–open the sketchbook and let's get started.
Learn how to:
Determine the ideal sketchbooks to use for mixed media
Add water to watercolors and test opacity
Create an allover circle motif with watercolors
Draw over the watercolor background with pen
Create your own watercolor and pen designs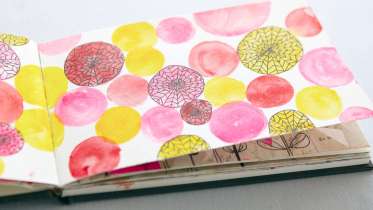 Chapters
Part 1: Watercolor Backgrounds and Line Drawing
Materials
Here's what you'll need:
Mixed media sketchbook (Lisa uses Strathmore sketchbooks with watercolor paper or thick mixed media paper)
Gluestick
Watercolors in a variety of colors
Gouache in neon colors
Paintbrushes in a variety of sizes (Lisa uses a flat-tipped paintbrush)
Jar of water
Paper towels
Micron pen (size 08 or 05)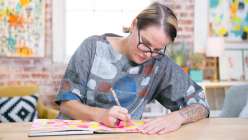 Browse members' projects from this class and share your own work! Learn how to take great photos
here
.
Notes
Your timecode tags and notes for this section
Who's Recently Taken This Class
Meet other Creativebug crafters who have recently taken this class.