Sketchbook Explorations: Collaged Backgrounds and Line Drawing
Your mixed media sketchbook is the perfect place to experiment with collage, and in this class, Lisa shares her favorite way to combine collage with line drawing. Using a mix of vintage paper and solid-colored paper, you will learn how to cut out geometric shapes and apply them to the page, then draw floral motifs over them to create an organic, juxtaposed design.
Learn how to:
Cut out geometric collage pieces
Apply collage pieces to sketchbooks to create a textured foreground
Draw several types of stylized flowers
Create a harmonious composition
Fill in flowers with black ink
Create other mixed media collage designs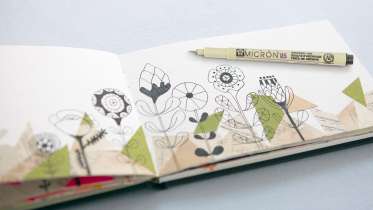 Chapters
Part 2: Collaged Backgrounds and Line Drawing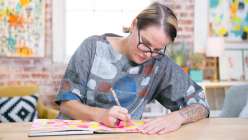 Browse members' projects from this class, add them to your Favorites, and share your own work!
Notes
Your timecode tags and notes for this section
Who's Recently Taken This Class
Meet other Creativebug crafters who have recently taken this class.