Beginner
|
3 hours 22 min
Artist, printmaker, and educator Sarah Matthews demonstrates her vibrant signature style of layering stamps to create graphic prints. Throughout each week of this daily practice, you'll design, carve, and print your own stamps. Then, you'll bind the resulting prints into four different book structures. The month is rounded out with additional techniques that you can use in any book art project. Sarah's playful, low-pressure style and dynamic approach to color creates deceptively complex designs that radiate energy.
Learn how to:
Design, carve, and print Soft-Kut stamps
Make a two-color stamp
Make a flag book
Make an accordion book
Sew a five-hole pamphlet stitch
Make a Turkish map fold
Insert a pocket
What you'll get:
Expert guidance from Sarah Matthews on how to carve and print stamps and how to bind your prints into books
32 HD video lessons you can access online anytime, anywhere
Downloadable PDF with photo resources
The ability to leave comments, ask questions, and interact with other students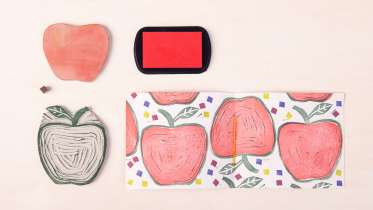 Chapters
Stamps! Prints! Books!
Week 1 - Make a geometric flag book
Week 2 - Make a fruit sample book
Week 3 - Make a floral accordion book
Week 4 - Make an abstract upcycled book
Additional inspiration
Materials
Here's what you'll need:
Neenah Exact Vellum Bristol 67 lb paper cut to 5" x 10"

Day 20 cut two sheets of paper to 5" x 11"
Days 22-25 cut paper to 5" x 5"

One 9"x12" Soft-Kut printing block
Versafine Clair Stamp Pads -- Sarah is using Cheeful (yellow), Charming Pink, Rain Forest (green), Warm Breeze (turquoise), Tulip Red, and Chianti (dark red)
Versafine Clair Reinkers
Power Grip carving tools
Pfeil Swiss Made V Gouge #12 1mm and 1mm
Olfa Frosted Advantage Non-Slip Ruler QR-4S
18"x24" Self-healing cutting mat and/or 9" x 12" self-healing cutting mat
Ruler
Bonefolder
Scissors
Pencils - Sarah prefers Palomino Blackwing
Fiskars Paper Trimmer
Scoring board
Gaffer bookbinding tape
Double sided tape
12" x 12" Chipboard - Sarah prefers Silhouette American brand
Japanese screw punch or awl
Waxed binding thread
Bookbinding or embroidery needle
Baby wipes for clean-up
Downloads:
Browse members' projects from this class and share your own work! Learn how to take great photos
here
.
Notes
Your timecode tags and notes for this section
Who's Recently Taken This Class
Meet other Creativebug crafters who have recently taken this class.