Beginner
|
3 hours 58 min
From abstract shapes to identifiable icons, making your own stamps allows you to play with your own custom designs. Using erasers and carving blocks, mixed-media artist Lisa Solomon leads you through the carving of an array of stamps to create your own stamp collection. Print with stamp pad ink, brayer and printmaking ink, and create patterns and images on a variety of surfaces including various color papers and fabric. Make this kit for play, correspondence, or gifts, knowing that you'll be ready to go with versatile hand cut stamps whenever you need.
Learn how to:
Make custom stamps from carving materials
Print with stamp pad ink
Print with a brayer and printmaking ink
Make positive and negative stamps
Print on fabric
Create a kit to house all your stamping materials
What you'll get:
Instructions on how to make hand-carved stamps
31 HD video lessons you can access online anytime, anywhere
Detailed supplies list
Step-by-step expert instruction from artist Lisa Solomon
The ability to leave comments, ask questions, and interact with other students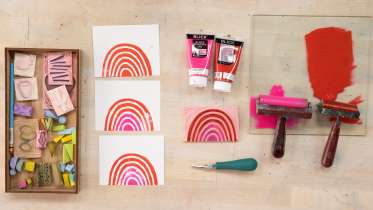 Chapters
Carve a Rubber Stamp Kit: A Daily Practice
Week 1 - Basic Geometrics with Ink Pads
Week 2 - Florals and Botanicals with Brayer Rolled Ink
Week 3 - Complex Shapes
Week 4 - Variety Pack
Materials
Here's what you'll need:
Erasers - Lisa's are from Daiso, but any rubber eraser will work
Speedball Speedy Cut or Speedy Carve carving blocks
X-acto knife or utility knife
Linoleum cutter with multiple size carving blades
Ink pads - Lisa recommends pigment ink and is using Avery Elle and Vicki Boudin color wheel but any brand should work
Fabric ink
Block printing ink
Brayer and glass palette
Ruler
Pencil with eraser
Pens and pencils for outlining
Wipes / rags for clean-up
Sketchbook - for design ideas and/or printing
Paper to print on, plain gift wrap, gift tags, canvas bag, plain fabric napkin
Storage box
Optional: cutting mat, shape template, artist tape, vellum paper, scratch paper, palette knife/razor blade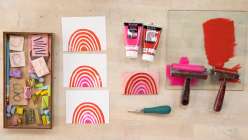 Browse members' projects from this class and share your own work! Learn how to take great photos
here
.
Notes
Your timecode tags and notes for this section
Who's Recently Taken This Class
Meet other Creativebug crafters who have recently taken this class.