Beginner
|
2 hours 43 min
A picture is worth a thousand words but words themselves are priceless. In this unique daily practice, multimedia artist and educator e bond explores the various ways that reading and writing can intersect with visual art and how one medium can inform the other. She'll share some of her favorite fiction, non-fiction, poetry and music to generate interest points from which to play and experiment. See how these sparks can fuel visual art through collage, mark-making, and doodling, and how these visual observations alter your perception of the page.
Learn how to:
Draw inspiration from fiction, non-fiction, poetry, and music
Transform text into art
Make a rubber band bound book
Carve eraser stamps into hieroglyphics
Create collages from poetry and prose
Write Blackout poems, Concrete poems, Cento poems, and Haiku
Develop creative thinking and writing
What you'll get:
Easy-to-follow video lessons on how to use writing samples to generate creative inspiration
31 HD video lessons you can access online anytime, anywhere
Detailed supply list and PDF with writing samples and links
Step-by-step instructions by multidisciplinary artist e bond
The ability to leave comments, ask questions and interact with other students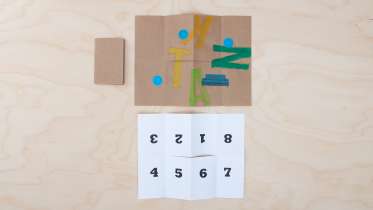 Chapters
Words Inform Images: 31 Prompts Using Writing as Inspiration for Art
Week 1
Week 2
Week 3
Week 4
Materials
Here's what you'll need:
Favorite books and audio books and music
Access to a camera - e uses her phone
Access to a voice recorder - e uses her phone
Old books you don't mind drawing in or cutting up
Paper ephemera such as old magazines, newspapers, maps, and discarded artwork
Assorted drawing papers
Glue stick or double-sided tape
Scissors or x-acto knife and cutting mat
Pens and pencils
Sharpie markers
Drawing implements of your choice, including colored pencils, markers, white-out pen
Paints and brushes
Rubber bands
Pink eraser
Access to a photocopier (optional)
Stencils (optional)
Downloads: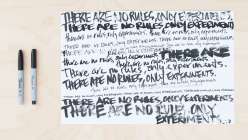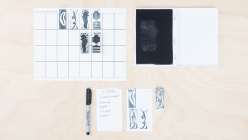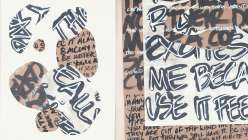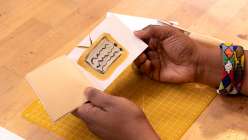 Browse members' projects from this class and share your own work! Learn how to take great photos
here
.
Notes
Your timecode tags and notes for this section
Who's Recently Taken This Class
Meet other Creativebug crafters who have recently taken this class.