After you know how to burn a screen, watch this workshop with Hilary to see how she creates multi-color prints on a pillowcase. Hilary's designs include one screen that covers a large printing areas, and a second screen with finer details that she prints in two colors. This workshop will spark ideas for grouping screen prints together to take your designs to the next level of sophistication.
Here's what you'll need:
Tools:
mesh screen (lower than 125 mesh count best for beginners)
squeegee (at least 5" smaller screen frame width)
screen print clamp hinges on a board or table
UV lights or light table
brush
fountain pen
Materials:
screen print photo emulsion
transparent paper
India Ink for film
packing tape
screen print ink
pillow cases
Downloads:
Learn how to:
Create a multi-colored screen on a pillowcase
Group screens together
What you'll get:
An easy-to-follow lesson on how to create multi-screen printing
4 HD video lessons you can access online anytime, anywhere
Itemized supply list
Step-by-step instruction by artist Hilary Williams
The ability to leave comments, ask questions and interact with other students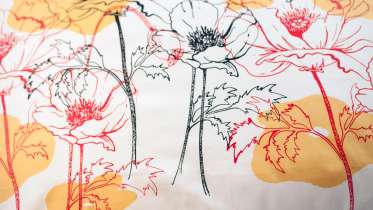 Browse members' projects from this class and share your own work! Learn how to take great photos
here
.
Class PDF
Transcript
Notes
Your timecode tags and notes for this section
Class Reviews
229 users recommended this class to a friend

Kristy Aeschbocker
I had never even looked into screen printing, though I had wondered about it. Thank you for this class!!
November 30