Mishima is an inlay technique where you draw on the surface of clay, inlay color into the lines of the drawing, and wipe the color away—creating a beautiful design as elaborate or simple as you wish.
Here's what you'll need:
Materials:
leather-hard piece of clay
reference drawing
commercial underglaze
Tools:
1"wide bristle brush
natural sponge
drawing tool
mechanical pencil
X-ACTO knife
clean bowl of water
empty bowl
additional tools for marking
Downloads:
Learn how to:
Freehand draw on ceramics
Apply Mishima inlay techniques
Use underglaze
Finish work before firing
What you'll get:
An easy-to-follow lesson on the Mishima technique
4 HD video lesson you can access online anytime, anywhere
Itemized supply list
Step-by-step instruction by artist Diana Fayt
The ability to leave comments, ask questions and interact with other students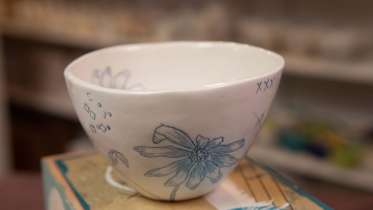 Browse members' projects from this class and share your own work! Learn how to take great photos
here
.
Class PDF
Transcript
Notes
Your timecode tags and notes for this section
Class Reviews
459 users recommended this class to a friend

Paul
I enjoyed the way that Diana so smoothly demonstrated the many steps of the mishima process.
September 24, 2022

Suzanne Riendeau
Need more specific info.How do get the clay to be hard enough? How long baking? What kind of glaze? Beautiful, fun idea!
More than 3 months ago

Michelle Guillette
Content good, but repetitive. Would like to see variety of work examples with more information on materials and more information on techniques.
More than 3 months ago