Total Time: 1 hour 55 mins 45 secs
Learn how to create beautiful ceramic vessels at home without a potter's wheel. California ceramicist and designer Linda Fahey shows you every step of setting up a studio at home, and then demonstrates three methods for hand-building pottery. Along the way, she covers creating and attaching handles and even provides an introduction to glazing and firing. This three-part course covers all of the essential information you need to know to play with clay in your home studio.


Hand-Built Ceramics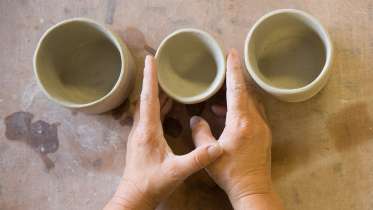 Part 1:
Hand-Built Ceramics: Pinch Pot, Slab, and Coil Forms
Linda Fahey
For many aspiring potters, the most daunting task is setting up a home studio. Linda Fahey shows you just how easy it is to get your workspace set up and provides options for more minimalist makers. Once your studio is set up, learn how to prep your clay and make slip, then you're ready to start hand-building pots. Linda demonstrates three hand-building methods: pinch pots, coiled forms, and slab-built forms. When you're done making pots, learn how to properly store them for the next stage.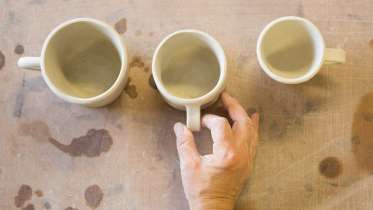 Part 2:
Hand-Built Ceramics: Creating and Attaching Handles
Linda Fahey
Now that you know how to make vessels using the three basic techniques (pinch, coil and slab), transform your pots into functional cups by adding handles. Linda shows you how to form and shape handles from coils and then trim them to fit the style and shape of your cup. You'll learn how to attach the handles using a scoring and slip method to create three stylish versions.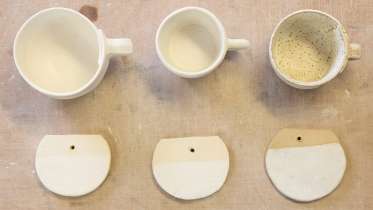 Part 3:
Hand-Built Ceramics: Introduction to Glazing
Linda Fahey
Now that you have created your beautiful ceramic pieces, it's time to learn how to glaze and finish them. Linda shows two methods for applying glaze—brushing and dipping—and also talks about the variations in color that can occur with different clay bodies. Once you know how to successfully apply glaze, you'll be ready to experiment with color and glazing on your own.

Who's Recently Taken This Class
Meet other Creativebug crafters who have recently taken this class.