Customize ceramic mugs with easy-to-use paint markers. This video originally appeared on Facebook Live on June 13, 2017.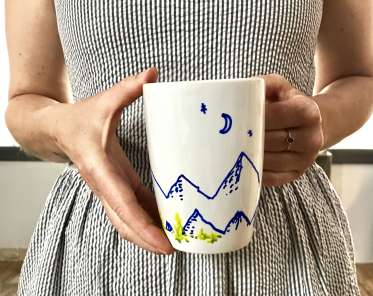 Browse members' projects from this class and share your own work! Learn how to take great photos
here
.
Transcript
Notes
Your timecode tags and notes for this section
Paint Pen Mugs: 6/13/17 Reviews
83 users recommended this class to a friend

Shiri DH
Fun little class! I loved the camping / mountain design and appreciated the ideas on the others. I bought some paint pens recently so whether I do this type of project on a mug or another surface it was informative. Doing it with kids seems extra fun. I was super appreciative of the final question about the mug not being dishwasher-safe or microwave-safe -- realistically, that means I am less likely to actually use or gift it for use, so I will probably pick non-food surfaces.
August 23, 2023

Keysha Colon
Simple but effective. Very nice idea for small projects and activity purposes!!
August 9, 2023