If you are a lover of color and a little wild at heart, this daily practice is just for you. Oakland artist, educator, and muralist Sharon Virtue finds inspiration in Matisse and O'Keefe, but most of all, in the exquisite beauty of flowers, leaves, and plants. On this month-long painting and drawing journey, gain confidence in your drawing abilities, explore value by working in black and white, and choose colors and styles that let your unique expression shine. With Sharon's encouraging guidance, find confidence and freedom to creating magic in your imagination and in your sketchbook.
Learn how to:
Collect and utilize source imagery from books and nature
Layer with watercolor, acrylic, and Sumi ink
Use a rigger paint brush
Trace and transfer an image
Paint with black and white
Create stylized flowers, leaves, and plants
Wield your artistic license
What you'll get:
Easy-to-follow video lessons on how to create paintings and drawings of plants and flowers
31 HD video lessons you can access online anytime, anywhere
Detailed supply list and PDF with reference photos
Step-by-step instructions by multidisciplinary artist Sharon Virtue
The ability to leave comments, ask questions and interact with other students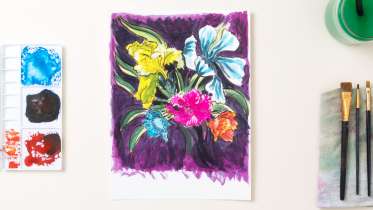 Chapters
Inspired by Botanicals: A Daily Drawing and Painting
Materials
Here's what you'll need:
Purchase or pick fresh flowers and plants for your compositions
Large and small sketchbooks - Sharon uses a 9 x 12" 140lb hot press watercolor sketchbook and a hardbound mixed media sketchbook
Graphite pencil 2hb
Mechanical pencil 0.5
Vinyl Eraser (Staedtler)
White Prismacolor Pencil
Pigma Micron 08 Archival ink (water soluble)
Black Sharpie extra fine point (waterproof)
White UNI POSCA acrylic paint pen
Lyra Graphite Crayon 6B (waterproof)
Black sumi Ink
9 x 12 inches Vellum tracing pad
9 x 12 Graphite transfer sheets pad
Artist tape
A table lamp or light-source for shadow drawing techniques
Watercolor paint
Acrylic paint
Two jars for water
A variety of brushes, including a Rigger/Liner 0
Watercolor palette
Homemade acrylic paint palette made with a plastic folding document case, tracing paper, and paper towels
​Class bibliography:
Rix, Martyn. The Golden Age of Botanical Art. London, Carlton Publishing Group, 2012.
Blossfeldt, Karl. Art Forms in the Plant World: 120 Full-Page Photographs. New York, Dover Publications, 1985.
Audsley, W. and G. Designs and Patterns from Historic Ornament. New York, Dover Publications, 1968.
Harter, Jim. Plants: 2,400 Royalty-Free Illustrations of Flowers, Trees, Fruits and Vegetables. New York, Dover Publications, 1998.
Downloads: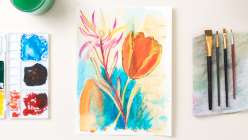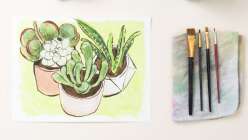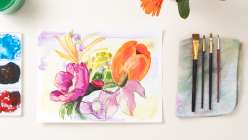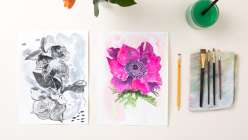 Browse members' projects from this class and share your own work! Learn how to take great photos
here
.
Notes
Your timecode tags and notes for this section
Who's Recently Taken This Class
Meet other Creativebug crafters who have recently taken this class.