Intermediate
|
5 hours 4 min
Begin a daily painting practice on an unconventional canvas: a bound book. Accomplished painter Missy Dunaway takes you through a month-long series of classes progressing from simple exercises to advanced paintings. Working with acrylic inks, you'll begin by breaking down compositions into simple steps, learning how to block out your image, apply acrylic ink in layers, and gradually add detail and complexity to render colorful and expressive images. Whether you're new to painting or have an established practice, Missy's prompts encourage you to explore materiality and record places - both familiar and foreign - in an artful, visual diary.
Learn how to:
Paint and layer with acrylic inks
Create washes and layers
Apply acrylic ink with a dip pen
Work in a sketchbook
Create a composition for painting
Determine proportions in a painting,
Utilize distressed brushes
Paint using a reference directly or indirectly
Work on a painting over multiple days
What you'll get:
A 30-day series of easy-to-follow video lessons on how to work with acrylic inks to create diaristic paintings
31 HD video lessons you can access online anytime, anywhere
Detailed supply list
Step-by-step instructions from artist Missy Dunaway
The ability to leave comments, ask questions and interact with other students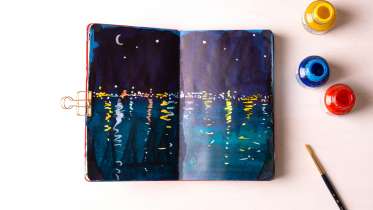 Chapters
Working In Ink: A Daily Sketchbook Practice - Create a New Chapter
Materials
Here's what you'll need:
5x8 1/4" Moleskine "Sketchbook line" notebook (periwinkle wrapper)
Acrylic ink in a variety of colors; Missy uses F&W brand in the following colors: Indigo, Rowney Blue, Process Cyan, Turquoise, Dark Green, Light Green, Lemon Yellow or Brilliant Yellow, Yellow Ochre, Indian Yellow, Crimson, Scarlet or Flame Red, Process Magenta, Burnt Umber, White (two jars)
Kolinsky Sable Round Brushes (Winsor & Newton or Raphael brand) or synthetic equivalent in sizes 1 - 16
Cotton rag
B&J Masters brush cleaner
Rubber gum eraser
Pencil
Straw
Dip pen with clean globe nib
Heat gun or hair dryer (optional)
Two jars water
Downloads: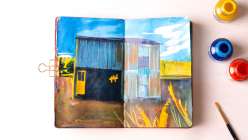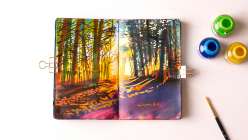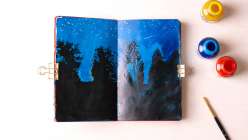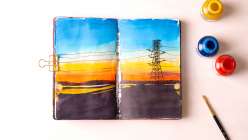 Browse members' projects from this class and share your own work! Learn how to take great photos
here
.
Notes
Your timecode tags and notes for this section
Who's Recently Taken This Class
Meet other Creativebug crafters who have recently taken this class.