Intermediate
|
1 hour 7 min
Prepare to be wowed by the exciting structures taught by book binder, Faith Hale, including flag books, floating panel books, and storage books. These innovative structures spark the imagination and stretch the possibilities of what we think a book can be. This class is perfect for any paper arts appreciator who wants to learn some new tricks. All three structures can be easily completed using basic bookbinding tools and papers.
Learn how to:
Cover book boards with paper
Punch with a template
Create accordion fold spines
Paint and fold Tyvek
Make a storage book, flag book, and floating panel book
What you'll get:
Instruction on how to make books with exciting structures, like floating panel books, flag books, and storage books
7 HD video lessons you can access online anytime, anywhere
Detailed supplies list for easy shopping
Step-by-step expert instruction from bookbinder, Faith Hale
The ability to leave comments, ask questions, and interact with other students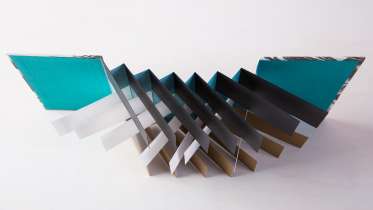 Chapters
Innovative Book Structures
Floating Panel Book
Materials
Here's what you'll need:
2 metal rulers – one small and one large
Pin tool or awl
Utility knife
X-Acto Knife
Bone folder
Glue brush
Paintbrush for decorative painting
Tombow Mono Adhesive tape runner or double-sided tape
Acrylic ink in colors of your choice
Tyvek
Cutting mat
1.5" punch (optional)
Newsprint
Pencil
PVA glue
Weights and boards for drying pages flat
2 pieces bookboard - 4 ¼" x 6 ¼" grain long
2 pieces decorative paper - 5 ¼" x 7 ¼" grain long
2 pieces text weight paper - 4" x 6" grain long
​FOR PANEL BOOK
Bristol paper - 6" x 22" grain short
Text-weight paper - 3" x 12" (or four pieces of paper 3" x 3")
FOR FLAG BOOK
Tyvek - 11" x 6"
3 colors of cardstock – you will need 7 pieces per color, each measuring 4" x 1-15/16"
PDF with punching template
Sumi ink and big paintbrush
FOR STORAGE BOOK
7 pieces of heavy or Bristol paper – 6" x 8"
Tracing paper or acetate
Downloads: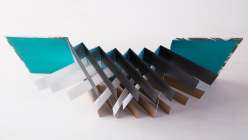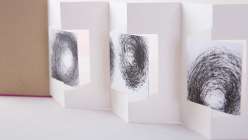 Browse members' projects from this class and share your own work! Learn how to take great photos
here
.
Notes
Your timecode tags and notes for this section
Who's Recently Taken This Class
Meet other Creativebug crafters who have recently taken this class.