Learn the ins and outs of canning from preserving pro, Karen. In this class, Karen demystifies the canning process, explaining the necessary (and unnecessary) tools and rules for hot water bath canning as well as important safety tips. For first time canners, Karen recommends starting with a pickled carrot, and she provides a yummy recipe for a basic brine. Note that this brine can be used to pickle any veggie you like – consider this your go-to recipe for all of your pickling needs.
Learn how to:
Determine which vegetables are eligible for home canning
Sterilize jars and lids
Properly pack a jar
Check a seal
What you'll get:
Easy-to-follow class by author and expert instructor Karen Solomon, teaching the ins and outs of canning
6 HD video lessons you can access online anywhere, anytime
Step-by-step instruction and a detailed supply list
The ability to leave comments, ask questions and interact with other students
Chapters
Prepare for Canning
Processing the Jars
Materials
Here's what you'll need:
TOOLS:
5 clean pint-sized caning jars with new lids and clean bands
Chopstick
Canning labels (or masking tape and Sharpie)
Kitchen timer
Canning tongs
Canning funnel
Dish towels
Canning rack or silicone trivet (available on Amazon)
Cutting board and sharp knife
Small pot of boiling water for sterilizing lids and bands
Very large pot of boiling water for canning
INGREDIENTS:
5 large whole garlic cloves (lightly crushed)
5 tablespoons dill seed
7 1/2 teaspoons Kosher salt
5 tablespoon whole black peppercorns
5 teaspoons fennel seed
5 teaspoons cumin seed
About 3 ¾ lbs. (roughly 30) fresh carrots - peeled; trimmed; and cut into large sticks
20 oz. distilled white vinegar
20 oz. cold tap water
Downloads: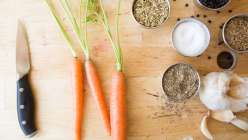 Browse members' projects from this class and share your own work! Learn how to take great photos
here
.
Notes
Your timecode tags and notes for this section
Who's Recently Taken This Class
Meet other Creativebug crafters who have recently taken this class.