Intermediate
|
37 min 12 sec
Jen Hewett walks you through the process of screen printing from start to finish, and then shares how to sew a clutch from your custom-printed fabric. You will learn how to make four different print designs on a screen and how to print your fabric using a variety of two-color print combinations. Once you've custom-printed your own fabric, take it to the sewing machine to construct a simple, bold clutch using a patchwork technique—a great way to showcase all of your fabric designs on one accessory.
Learn how to:
Prepare a screen for silk screening
Create four designs on acetate
Transfer designs onto a screen
Screen-print fabric using four different designs, including a two-color design option
Cut and sew prints into a patchwork design to sew a clutch
Insert a zipper
Insert lining
Add a zipper pull with a decorative bead
What you'll get:
Detailed instruction on the process of screen printing custom fabric
5 HD video lessons you can access online anytime, anywhere
Detailed supplies list
Step-by-step expert instruction from Jen Hewett
The ability to leave comments, ask questions, and interact with other students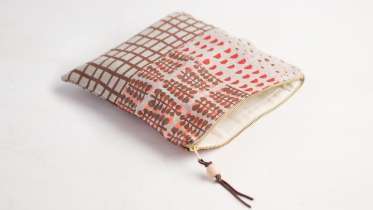 Chapters
Screen Print Fabric and Sew a Clutch
Introduction
Materials and Getting Started
Preparing a New Screen
Sew a Patchwork Fold-Over Clutch
Materials
Here's what you'll need:
For Screen Printing:
Four pieces of 5 ½" x 10" acetate or translucent velum
One large piece of acetate or translucent velum for print alignment
10" print squeegee (or at least the width of your film)
Rag
Packing tape
Masking tape
Paintbrushes to create your design (Jen uses a few smaller-sized paintbrushes)
Opaque ink (India Ink and Rapidograph Ink work best)
Small container for ink
Fabric printmaking ink in at least three different colors
Emulsion for screen
Degreaser and bristle brush to prep new screens
Muslin for test fabric
Light-colored fabric for printing (such as medium-weight linen, cotton-linen blend, or quilting cotton), cut into eight 5 ½" x 10" pieces
Popsicle stick or spatula for stirring ink
Paint scraper
Scoop-coater for applying emulsion
Small screen (Jen uses a 25" x 31" 110 mesh-count screen with a metal frame)
Batting (large enough to fit under your screen)
Hinge-clamps to hold screen
Hose or sink to rinse screen between prints
For Sewing:
Printed fabric (eight pieces of 5.5"x10" fabric)
9" zipper
Sewing machine
Zipper foot for sewing machine
Coordinating thread
Muslin for the lining, cut into two 10" x 11" pieces
Pins
Rotary cutter
Snips
Scissors
Leather lacing or thin ribbon and decorative bead for the zipper pull (optional)
Cutting mat
Quilting ruler
Iron and ironing surface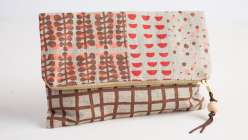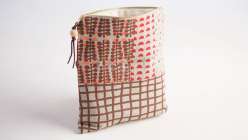 Browse members' projects from this class and share your own work! Learn how to take great photos
here
.
Notes
Your timecode tags and notes for this section
Who's Recently Taken This Class
Meet other Creativebug crafters who have recently taken this class.