Make a bold statement without saying a word by customizing a favorite tote bag. Lesley Ware - maker, author, and fashion-as-self-care-advocate - was inspired by the signs she created to express herself in her office. In this class she teaches you how to turn your tote bags into signs in order to to share your favorite quotes and thoughts everywhere you go. It's a fun way to speak up with fashion. Learn how to paint words with stencils, embellish your bag with patches, and even replace the bag straps with some hand-sewing to make your statement tote really stand out.
Learn how to:
Customize a tote bag with a quote
Paint with stencils
Embellish with patches
Replace bag straps using the back stitch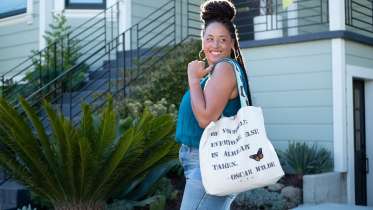 Chapters
Stencil a Statement Tote
Materials
Here's what you'll need:
Fabric tote bag
Stencils
A dull pencil
Fabric or permanant marker - Lesley uses a Sharpie
Masking tape
Ruler
Cardboard the same size as your tote bag
Colorful strapping (optional)
Browse members' projects from this class and share your own work! Learn how to take great photos
here
.
Notes
Your timecode tags and notes for this section
Who's Recently Taken This Class
Meet other Creativebug crafters who have recently taken this class.