Intermediate
|
1 hour 35 min
A well-executed portrait is more than just a literal likeness - it shows the inner essence of the subject. While this can often feel inaccessible to an untrained painter, artist Sharon Virtue's mission is to encourage and provide access to everyone in the creation of art. In this class, learn ways to transfer images and utilize stencils to simplify drawing and save time, employ subtile observation to lay down highlights and shadows, all to create a vibrant, thoughtful portrait.
Learn how to:
Use source imagery to create a rich portrait
Trace and transfer an image
Use a rigger paint brush
Paint a portrait in black and white
Paint a portrait in vivid color using stencils
Create values and layers using acrylic paint and glaze
Wield your artistic license
What you'll get:
Instructions on how to paint acrylic portraits
Nine HD video lessons you can access online anytime, anywhere
Detailed supplies list
Step-by-step expert instruction from Sharon Virtue
The ability to leave comments, ask questions, and interact with other students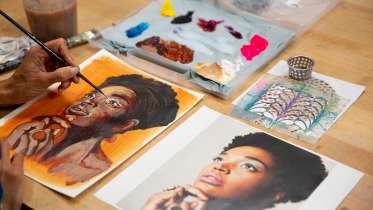 Chapters
Paint Expressive Portraits in Acrylic
Greyscale Portrait
Color Portrait
Materials
Here's what you'll need:
140LB hot press watercolor paper smooth - 9 x 12 inches
9 x 12 inches Vellum tracing pad
9 x 12 Graphite transfer sheets/pad
Pattern stencils
Mechanical pencil 0.5 Vinyl Eraser (Staedtler)
White Prismacolor Pencil
Ballpoint pen (or pen with small metal nib)
White Posca pen
Acrylic paint - Liquitex Heavy Body or Golden recommended
Homemade acrylic paint palette made with a plastic folding document case, tracing paper and paper towels
Glazing medium (clear)
Two small buckets for water
Cotton buds for detail removal of paint
Palette knife
A variety of small, medium, and large brushes, including a Rigger/Liner 0
Downloads: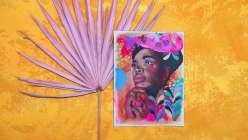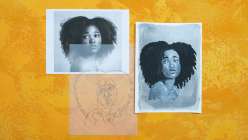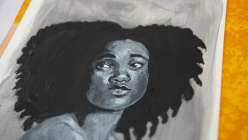 Browse members' projects from this class and share your own work! Learn how to take great photos
here
.
Notes
Your timecode tags and notes for this section
Who's Recently Taken This Class
Meet other Creativebug crafters who have recently taken this class.