Beginner
|
3 hours 34 min
The luminous quality of watercolor gives you so much opportunity to play with color, light, and texture, yet oftentimes the paint can have a mind of its own. Artist and illustrator Sasha Prood shares her impressive tool kit of tips and techniques to give you more control of your watercolor painting while also embracing the stroke of each brush. Begin with the basics, like wet-on-dry vs. wet-on-wet, flat washes and color gradients, and then experiment further with lifting, masking, and layering using an array of mixed media. Throughout the month, you'll alternate between learning one technique at a time and creating a small composition that highlights each new technique. Sasha will also talk you through her process of developing a piece of art, from research, to sketch, to final painting. Whether you're just starting to explore watercolor or are eager to expand what you already know, Sasha will help you unlock a treasure trove of new skills and fresh inspiration.
Learn how to:
Create a color chart to test all of your watercolors
Paint fundamental watercolor techniques like wet on dry and wet on wet
Hone your painting skills with ombre washes, flat washes, and blooms
Lift watercolor with various tools
Use masking fluid with watercolor to create beautiful patterns
Layer watercolor with watercolor and other mixed media
Paint small compositions as you explore each new skill
Research your subject and prepare a sketch before painting your final art
What you'll get:
Expert guidance from Sasha Prood on how to work with watercolor
30 HD video lessons you can access online anytime, anywhere
Downloadable PDF with inspiration and resources included
The ability to leave comments, ask questions, and interact with other students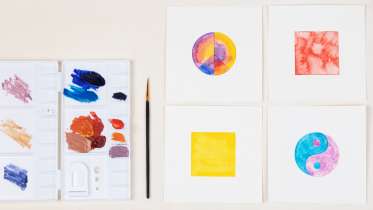 Chapters
Watercolor Workshop: A Daily Practice
Materials
Here's what you'll need:
Watercolor paints - Sasha uses Winsor & Newton, Sakura Koi, and Daler-Rowney in tubes (see specific colors in class PDF) and encourages experimentation with a variety of brands. You can also get cakes in a palette or sold individually.
Paint palette - if you purchased individual paints or need a place to mix them
Watercolor paper - Sasha is using hot press
Brushes - Sasha predominantly uses a Round 000, Round 1, Round 3, Round 6, Round 9, optionally a Flat Size 4 for dry brushing
Cups for water
Paper towels
Pencils
Markers including a Micron 05 for labeling your color chart
Kneaded & standard erasers
Ruler
Table salt and sea salt
X-acto blade
Scotch or masking tape
Masking fluid in a jar, fine line application squeeze tube, and pen
Q-tips, Toothpicks
Rubber cement pick up
Natural and sythetic sponges and any other stamping tools you'd like to test out
Micron 005 for labeling
Class PDF
Downloads:
Browse members' projects from this class and share your own work! Learn how to take great photos
here
.
Notes
Your timecode tags and notes for this section
Who's Recently Taken This Class
Meet other Creativebug crafters who have recently taken this class.