Ever been curious about the wild and wooly world of needle felting? Megan's quick workshop will serve as an introduction to the range of materials and tools you'll need to get started, as well as tips for safe felting. Her demonstration covers how to begin needle felting a basic shape, add color, and finish your project.
Learn how to:
Use a range of materials and tools
Use safely needle felt
Add color and finish your project
What you'll get:
An easy-to-follow lesson on beginning needle felting
HD video lessons you can access online anytime, anywhere
Itemized supply list
Step-by-step instruction by artist Rad Megan
The ability to leave comments, ask questions and interact with other students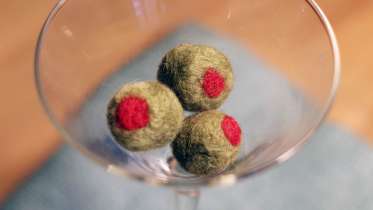 Browse members' projects from this class and share your own work! Learn how to take great photos
here
.
Transcript
Notes
Your timecode tags and notes for this section
Class Reviews
427 users recommended this class to a friend

Edie Mcswain
Good overall introduction to this craft...nice instructor with clear voice! Looking forward to more specifics about shaping, using wire, adding color shading and texture like hair! How about specifics on using the other wool products like bits of felt and wool yarn!
March 29, 2023

t...@yahoo.com
The instructor explained very well what I considered very important information on the subject, well enough for even someone who never did it before. It really makes me want to get into making more things with needle felting.
March 8, 2023

ShirleyA. Tomany
Very nice introduction. If you have no experience with this craft, this is a terrific place to get started.
More than 3 months ago