All levels
|
14 min 51 sec
Fabric Considerations
Fabric Types
In this informative class, Liesl of Oliver + S takes you to her favorite fabric store in New York City and shares helpful tips on how to navigate fabric shops. There is a lot to consider when selecting fabric, from understanding the difference between woven and knit fabrics to grasping the fundamentals of drape. Liesl demystifies the basics, and then goes on to discuss the unique qualities of the most popular fibers available: silk, cotton, and wool. You'll walk away from this class with a better understanding of what kind of fabric will work best for the project you're making, and the confidence to experiment with new fibers.
Learn how to:
Tell the difference between a knit fabric and a woven fabric
Understand what it means for a fabric to "drape"
Understand the unique qualities of silk, cotton, and wool
What you'll get:
A detailed class on fabrics
5 HD video lessons you can access online anytime, anywhere
Detailed supply list
Step-by-step instruction by expert instructor and designer Liesl Gibson
The ability to leave comments, ask questions and interact with other students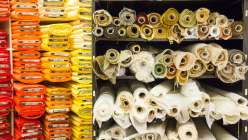 Browse members' projects from this class and share your own work! Learn how to take great photos
here
.
Transcript
Notes
Your timecode tags and notes for this section
Fabrics 101 Reviews
1230 users recommended this class to a friend

Kathleen Bernhardt
Loved the video. I have shopped B&J Fabric store many times, and it can be quite overwhelming. This video breaks fabrics down into easy, understandable fabric use.
September 4, 2023