Total Time: 2 hours 24 mins 2 secs
Blogger and sewist Rae Hoekstra (a.k.a. Made By Rae) introduces you to sewing for babies and toddlers in this three-part foundation course. Rae will teach you how to set up your sewing space, read and work with patterns, and sew a pair of little pants and a sweet little dress (patterns for sizes 0 and 3 are included with the class). You will also learn how to trace favorite t-shirts and leggings, creating brand new garments based on your old ones. Creating children's clothing is a great way to learn the basics of garment construction, and this primer is the perfect place to start.
Sewing for Little Ones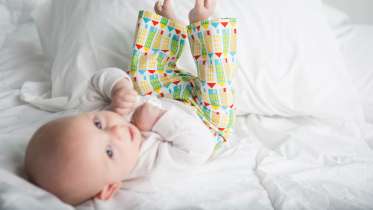 Part 1:
Sewing for Little Ones: Beginner Pants
Rae Hoekstra
Begin your foray into sewing for little ones with Rae's Parsley Pants pattern, which comes in three sizes (0, 2, and 3). Rae shows you how to work with multi-sized patterns and covers tricky techniques like sewing curves and adding an elastic waistband. This pattern is practical and simple, giving you the satisfaction of seeing an entire garment come together in just a couple of hours. Start building your basic garment construction skills with this class.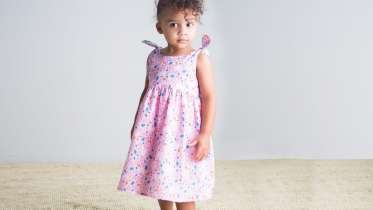 Part 2:
Sewing for Little Ones: Beginner Dress
Rae Hoekstra
Now that you've made your first pair of children's pants, it's time to build on those skills with the Flutter-Tie Dress. Rae covers slightly more advanced techniques in this class, including a bodice lining, a gathered skirt, and topstitching detail. Since there are no complicated closures, this is an ideal no-fuss dress pattern. Once you have made it, you will be ready to tackle all sorts of garment construction.
Part 3:
Sewing for Little Ones: Trace and Make T-Shirt and Leggings
Rae Hoekstra
Tracing and making is a great way to learn about clothing construction. In this final part, Rae shows you how to trace a favorite t-shirt and pair of leggings to create your own patterns, which you can use to construct custom garments. You will also learn all about working with knit fabrics—a staple fabric for kids. This class rounds out the wardrobe nicely, teaching you more skills like working with shoulders and sleeves and how to add a double-fold neckline.

Who's Recently Taken This Class
Meet other Creativebug crafters who have recently taken this class.