Furniture Refinishing: Painting Basics
All levels
|
2 hours 7 min
Now that you have prepped the surface of your furniture, you are ready to start painting. In this class, Barb demonstrates two of her favorite painting techniques. First, she shows how to apply two coats of latex paint to a wooden coffee table. Then, she demonstrates "milk painting" on a nightstand to create a textured, antiqued look. Barb gives plenty of tips for getting into those detailed areas and creating a lovely, finished look in either medium.
Learn how to:
Paint detailed areas with an angled sash brush
Apply latex paint smoothly with a foam roller
Work quickly and efficiently with water-based paint
Feather paint for optimal smoothness
Paint the underside and backside of furniture
Mix and apply Milk Paint with a brush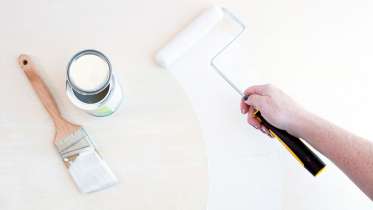 Chapters
Painting Basics
Painting the Coffee Table
Painting the Night Stand
Materials
Here's what you'll need:
Prepared wooden furniture
Latex paint in satin finish
Foam roller
2 ½" angled sash brush
½" coarse bristle brush
Paint tray
Shop towels
Paint stirrer
Paint can opener
Plastic bags for covering latex paint
Old-fashioned Milk Paint
Cup for Milk Paint
Painter's tape
Browse members' projects from this class and share your own work! Learn how to take great photos
here
.
Notes
Your timecode tags and notes for this section
Who's Recently Taken This Class
Meet other Creativebug crafters who have recently taken this class.