Watercolor FAQs with Yao Cheng
Total Time: 56 mins 13 secs
Have you ever wanted to know more about Yao Cheng's creative process? Us too! We sat down with Yao in her gorgeous light-filled studio to have a chat about some frequently asked questions. In this two-part interview-style class, Yao discusses her approach to everything from composition to confidence – and she even shares advice for those who want to digitize their paintings but don't know where to begin. We hope that her answers will illuminate your path as a watercolor artist and inspire you to keep practicing.
Watercolor FAQs with Yao Cheng
Part 1:
Watercolor FAQs - Creative Process
Yao Cheng
Part 1 is all about Yao's creative process, including:
- ​How she approaches the blank page
- How she blocks out time to be creative and keeps her paintings looking fresh
- Where she finds inspiration
- How she composes and plans paintings
- How she organizes her studio (and keeps it organized)
- How she makes her paintings looks so effortless
- How to find confidence as a painter
- Advice for turning original artwork into digital prints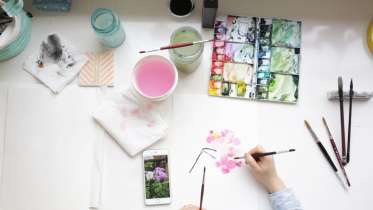 Part 2:
Watercolor FAQs - Paints, Brushes, Paper and More
Yao Cheng
In Part 2, we ask Yao about technical aspects of her painting process, including:
- How to get started making art prints at home
- What paints, papers and brushes Yao recommends
- When to use tube paints versus paint blocks
- When to clean your palette (and how to do it)
- How to fix painting mistakes
- The difference between cold press and hot press paper
- Which brush sizes are the most important for beginners to have
- How to compose a great color palette and explore color
- Tips for working with masking fluid and drawing gum
Who's Recently Taken This Class
Meet other Creativebug crafters who have recently taken this class.