Whether used to attribute your quilt or explain the circumstances of its production, a personalized quilt label is a thoughtful addition to a quilt. In this class, Milwaukee artist and quilter Heidi Parkes teaches how to embroider text in your own handwriting, both printing and cursive, using the back stitch so that you can leave yourself or someone else a special fabric note. The sentiment can be personal or practical, mundane or historical; this embroidered handwritten label can be added to a quilt, article of clothing, embroidered art piece or really anything that can hold stitching. Heidi walks you through the basics of hand-sewing, her easy tracing and transfer technique, and how appliqué the label using a neat trick using aluminum foil. Once you get the hang of it, you can transfer any sentiment onto an embroidered label.
Here's what you'll need:
Fabric, or a corner of the quilt itself
Needle - Heidi likes the Dritz milliners multi-pack
Size 9 DMC pearl cotton thread
Tracing paper or tissue paper
Fine felt tipped pen Pigma marker
Embroidery hoop to fit the size of your label (4" to 12")
Scissors/snips
Straight pins
Thimbles, both pushing and pulling
Thin cardboard like a cereal box and aluminum foil, and iron and ironing surface (optional, if appliqueing the label in place)
Window or light table (optional, but this can help you see better)
Downloads:
Learn how to:
Design a quilt top as a personal memoir
Appliqué using the running, ladder, whip stitches
Embroider unique shapes and objects
Tie a tailor's, quilter's and slip knot
Stretch your hands to prevent injury
Hand weave with embroidery thread
Sew a yo-yo
Assemble small patchwork
What you'll get:
Video lessons on how to make an embroidered handwritten label
5 HD video lessons you can access online anytime, anywhere
Detailed supplies list
Step-by-step expert instruction from artist Heidi Parkes
The ability to leave comments, ask questions, and interact with other students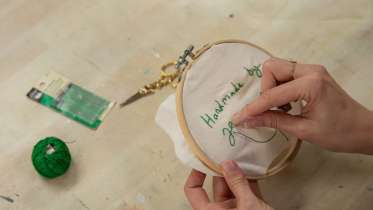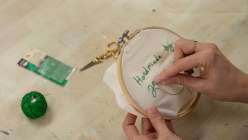 Browse members' projects from this class and share your own work! Learn how to take great photos
here
.
Class PDF
Transcript
Notes
Your timecode tags and notes for this section
Class Reviews
168 users recommended this class to a friend

Angelee Kumar
good tips including: knotting a quilt or sewing project with a Taylor's Knott, threading a needle best practices (needle to thread instead of thread to needle), ironing flat (optimized for tricky shapes with aluminum foil), transferring a drawing or signature to a sewing project
November 19, 2022