Picasso said, "Learn the rules like a pro, so you can break them like an artist." This month, artist, author and educator, Cleo Papanikolas teachs the old-school tracing and transferring techniques used by designers before computers to create analog surface design patterns that can be used to print fabric, wallpaper, tiles, puzzles, and more. In the final three days, she shows us how to digitize the work with Photoshop and Procreate, and how to upload to Spoonflower to make all your artistic designs a reality.
Here's what you'll need:
Cleo is painting with gouache but feel free to use any medium of your choice.
Graph paper
Mixed media paper
Tracing paper
Index cards
Sticky notes
Acryla gouache 12 color set, plus opera pink, neon orange, and ochre
Brushes
Water cup
Paper towels
Palette
Posca paint marker
Pencil
Scissors
Ruler
Low-tack double stick tape
Washi tape
Glue stick
Erasers
X-acto
Ruler
Spray bottle
Photocopier and smartphone (optional)
Downloads:
Learn how to:
Make a seamless block repeat
Design a half drop, fake half drop and an ogee
Transfer and trace images
Make a one-, two-, and four- directional print
Make patterns with stamps and stencils
Paint with gouache
What you'll get:
Unique video lessons on how to manually make repeat patterns with gouache
32 HD video lessons you can access online anytime, anywhere
Detailed supplies list
Step-by-step expert instruction from artist Cleo Papanikolas
The ability to leave comments, ask questions, and interact with other students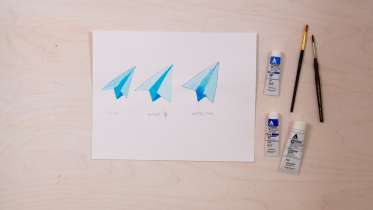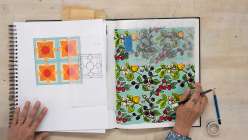 Browse members' projects from this class and share your own work! Learn how to take great photos
here
.
Class PDF
Transcript
Notes
Your timecode tags and notes for this section
Class Reviews
51 users recommended this class to a friend

Carmina Soler
I loved this class! I have learned a lot and I have got really inspired by how Cleo just keeps working and moving on, not trying to get it perfect, and still getting great results. Some times I get stuck on trying to make it perfect and this class helped me to move on. Thanks Cleo!
September 23, 2022

Ilsa Enomoto
Love the emphasis on doing the patterning by old school methods. There's a spontaneous nature to working off the screen.
September 19, 2022