A sketchbook featuring a range of fun and colorful papers makes the perfect background for on-the-go sketching, journaling or list making. Learn how to create a mixed-paper sketchbook by gathering together interesting papers and sewing them together with an easy pamphlet stitch. Pam Garrison also shows a few of her own mixed-paper sketchbooks, featuring solid-colored papers, patterned papers and pages on which she's already drawn or painted.
Here's what you'll need:
Variety of papers cut to approximately the same size
Scissors
Sticky label (optional)
Waxed linen thread
Upholstery or book binding needle
Awl
File folder with metal fasteners
Rubber bands
Stapler
Downloads: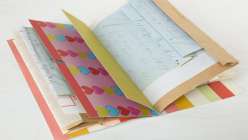 Browse members' projects from this class and share your own work! Learn how to take great photos
here
.
Class PDF
Transcript
Notes
Your timecode tags and notes for this section
Class Reviews
897 users recommended this class to a friend

Kris Gatzemeyer
This would be a great way to save your children's art and sketches in one place, too! Thanks for the simple craft!
November 30
Suzanne Vinson
What quick and simple ways to make really delicious mixed media journals. Will put these tools to use immediately! Thanks, Pam!
September 26, 2022