All levels
|
19 min 43 sec
Mixed media artist Courtney explains the basics of glue, including: Elmer's Glue, PVA (Poly Vinyl Acetate), Glue sticks, Mod Podge & gel medium, Tacky Glue, specialty glues, wood glue, heavy duty glues, hot glue guns, and glue dots. This class is perfect for anyone interested in collage, mixed media, image transfers, and using glue in general. Courtney explains how each type of glue works, as well as its ideal crafting use. You don't need every type of glue that exists, so watch this video to see which ones you'll want to include in your craft kit.
Learn how to:
Choose the best glue for your project
Transfer images with glue
Determine which glues to include in your craft kit
What you'll get:
Easy-to-follow class by author and artist Courtney Cerruti, on various types of glue
HD video lesson you can access online anywhere, anytime
Step-by-step instruction and a detailed supply list
The ability to leave comments, ask questions and interact with other students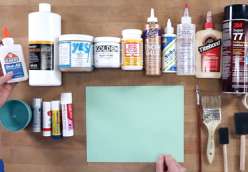 Browse members' projects from this class and share your own work! Learn how to take great photos
here
.
Transcript
Notes
Your timecode tags and notes for this section
Glue 101 Reviews
629 users recommended this class to a friend

d...@yahoo.com
I liked this class and appreciate the walk thru of the different glue, materials. I alway have a hard time getting things to stick in collage, so I will review this video a lot!
September 13, 2023

Bonnie Giusti
Good information to know when deciding which glue is best for any project. I learned quite a bit about glues in general and more useful information about some specific glues I had already been using.
July 27, 2023
Linda Roles
Great overview of all types of glues. Wish I had known this information years ago, Very Helpful!
July 12, 2023