Creative Sketchbooking: Playing with Pens and Paint
All levels
|
2 hours 32 min
In this first class, Pam Garrison shares simple exercises for releasing creative inhibitions in your sketchbook. You will use both your dominant and non-dominant hands to create blind contour drawings that look like mere scribbles on paper, then use a colorful paint palette to transform those scribbles into thoughtfully painted shapes. This exercise results in aesthetically pleasing sketchbook pages that are created through the process of intuitive creative exploration.
Learn how to:
Do dominant and non-dominant hand blind contour drawing
Fill in your blind contour drawings with paint
Chapters
Playing with Pens and Paint
Sketching and Painting
Materials
Here's what you'll need:
Two sketchbooks of any size with paper that can handle water (Pam uses a mixed media sketchbook and a watercolor sketchbook)
Waterproof ballpoint pens
Black and white gelly roll pens
Uni-ball pens
Variety of paintbrushes (Pam uses a simple variety 6-pack from Michaels)
Paint palette
Variety of colors of craft paint (Pam uses a vibrant selection of neon and bright colored paints, but you can also use primary colors or any colors of your choice)
One sheet blotter paper or watercolor paper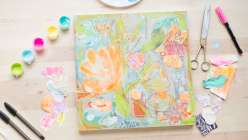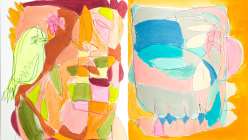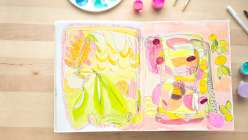 Browse members' projects from this class and share your own work! Learn how to take great photos
here
.
Notes
Your timecode tags and notes for this section
Who's Recently Taken This Class
Meet other Creativebug crafters who have recently taken this class.