Granny Squares Baby Blanket: Join the Squares
All levels
|
1 hour 25 min
Once you have completed all twenty-five squares (thirteen of Square A and twelve of Square B), you're ready to join your blocks together. Edie will show you how to expertly single crochet the edges of the blocks to make a gorgeous patchwork design. This is the exciting part, when your blanket starts to take shape.
Learn how to:
Lay out the squares in a checkerboard design
Determine a strategy for seaming the blocks
Single crochet the vertical edges of the blocks together
Single crochet the horizontal edges of the blocks together
Chapters
Part 3: Join the Squares
Materials
Here's what you'll need:
Materials are the same as for Part 1
Downloads: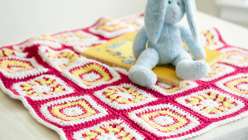 Browse members' projects from this class and share your own work! Learn how to take great photos
here
.
Notes
Your timecode tags and notes for this section
Granny Squares Baby Blanket
Who's Recently Taken This Class
Meet other Creativebug crafters who have recently taken this class.