The Wilton Method of Cake Decorating: Fondant Tiered Cake with Metallic Circles
All levels
|
2 hours 12 min
In Part 3, Emily will teach you how to use fondant to create a smooth finish on a stunning tiered cake. Emily demystifies this sometimes intimidating medium, walking you through everything you'll need to know to successfully decorate cakes with fondant. You'll learn how to color fondant, roll it out, cover a two-tiered stacked cake, and create decorative fondant cut-outs to give the cake beautiful geometric dimension.
Learn how to:
Knead, color, and roll out fondant
Cover a cake with fondant
Smooth and trim fondant
Make fondant cut outs and apply to cake
Materials
Here's what you'll need:
Baking Tools & Ingredients:
Your favorite 2-layer 6 in. round cake and 3-layer round 8 in. cake
4 lbs. Wilton White Decorator Preferred® Rolled Fondant
Wilton Icing Colors (Creamy Peach/Teal/Kelly Green)
Toothpicks
Pin
Ruler
Wilton Roll-N-Cut Mat
Wilton Fondant Rollers (9 in. and 20 in. or rolling pin)
Wilton Dust-N-Store Dusting Pouch (optional)
Confectioners' sugar
Wilton Round Fondant Double Cut-Outs Set
Wilton Silver Color Mist Food Color Spray
Cake boards (6 in. and 10 in)
Wilton Bamboo or Plastic Dowel Rods
6 cups buttercream Icing (see recipe in Week 1) or Wilton Creamy Decorator Icing or Wilton White Decorator Icing
Spatula (11 in. straight or 13 in. angled)
Wilton 20 in. Fondant Roller Guide Rings (optional)
Wilton Fondant Smoother
Wilton Fondant Trimmer
Wilton Cake Lifter
Kitchen shears
Decorating brush
Downloads: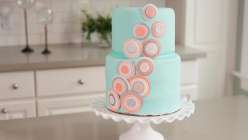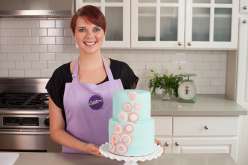 Browse members' projects from this class and share your own work! Learn how to take great photos
here
.
Notes
Your timecode tags and notes for this section
The Wilton Method of Cake Decorating
Who's Recently Taken This Class
Meet other Creativebug crafters who have recently taken this class.