Homemade pies are beloved by all, but they can be particularly challenging to do well. Whether you're baking for a holiday, a barbecue, or just because, Devlin Mannle will show you how to make a killer pie you'll be proud to share on Instagram. Devlin shares his mother's recipe for perfectly flaky pie crust, walking you through every step just like he's in the kitchen beside you. You'll learn tips and tricks for handling and rolling out the dough, as well as several traditional and decorative pie crust designs that will impress your guests, like lattice crust, cut outs and pretty crimped edges.
Here's what you'll need:
Kitchen Tools:
9" Pyrex or glass pie baking dish
Mixing bowl
Flour sifter (optional)
Measuring spoons and cups
Plastic wrap
Rolling pin
Pastry brush
Fork
Paring knife
Pizza cutter
Ruler
Pastry scraper
Cookie cutters (if making pie with cut-out shapes)
Cold surface for rolling out dough (marble is best)

Dough Recipe (For a Top-and-Bottom Crust Pie)
2 cups flour
1 cup shortening (like Crisco)
7 tbsp cold water
1 tsp salt
Extra flour, sugar and cinnamon (for dusting and garnishing)
Egg (for egg wash)
Apple Pie Filling:
10 apples - half sweet and half tart, like 5 Macintosh and 5 Granny Smith (tip: add lemon juice to cut apples to avoid browning)
3/4 cups sugar (half brown and half white)
Cinnamon to taste
Dash of Nutmeg
2 tbsp flour or cornstarch
2 tbsp melted butter
Downloads:
Learn how to:
Perfectly mix pie dough
Handle and roll out dough
Transfer dough to pie pan
Create decorative edges, like a fluted "pinched" edge or a forked edge
Add cut-out shapes to the top of the pie
Create a lattice crust
Create a traditional closed top crust
What You'll Get:
Detailed lesson on how to make Devlin's mother's perfectly flakey pie crust as well as several tips and tricks
4 HD video lessons you can access online anytime, anywhere
Detailed supplies list and downloadable PDF with the pie crust recipe
Step-by-step expert instruction from Creativebug's own Devlin Mannle
The ability to leave comments, ask questions, and interact with other students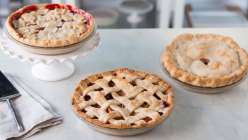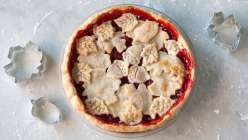 Browse members' projects from this class and share your own work! Learn how to take great photos
here
.
Class PDF
Transcript
Notes
Your timecode tags and notes for this section
Class Reviews
281 users recommended this class to a friend