Top-Down Sweater Knitting: Finishing Your Raglan Sweater
Intermediate
|
3 hours 1 min
In Part 2, Wendy picks up right where she left off: ready to finish the body of the raglan sweater. Wendy will talk you through how to calculate body shaping for your garment so it's perfectly fitted, then add a hem and bind off. Once the body is finished, you'll be ready to pick up sleeve stitches and work your way down to the cuff. By the end of this class, you'll be ready to wear your custom-made raglan sweater.
Learn how to:
Calculate waist shaping and sleeve shaping
Tips on finishing a hem or cuff
Pick up stitches and knit the sleeves
Pick up stitches to finish the neckline
Chapters
Part 2: Finishing Your Custom-Fit Raglan Sweater
Finish Raglan Body
Finish Your Sweater
Materials
Here's what you'll need:
See Part 1
Downloads: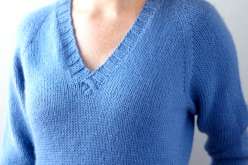 Browse members' projects from this class and share your own work! Learn how to take great photos
here
.
Notes
Your timecode tags and notes for this section
Top-Down Sweater Knitting
Who's Recently Taken This Class
Meet other Creativebug crafters who have recently taken this class.