Artist and educator Cleo shows us her new book - The Opposite is Also True: A Journal of Creative Wisdom. Please be advised that this giveaway is now closed. This video originally appeared live October 9, 2018.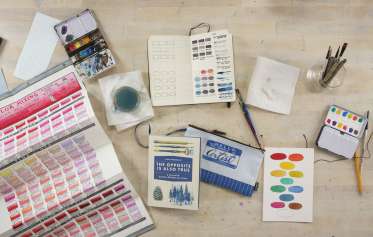 Browse members' projects from this class and share your own work! Learn how to take great photos
here
.
Transcript
Notes
Your timecode tags and notes for this section
The Opposite is Also True: 10/9/18 Reviews
52 users recommended this class to a friend

Lynda Greene
As a sewist, I'm interested in color and how to arrange them in pleasing ways when I'm making something. I've never taken an art class, so it was fascinating to see how artists/painters look at and choose colors for their projects. Thank you Courtney and Cleo.
More than 3 months ago

Gwen Gordon
Loved her creativity in an organized manner. I'm an organized person, so struggle with just freely creating something unless I have a plan. Thank you❣️
More than 3 months ago