Intermediate
|
1 hour 48 min
Expert bag maker and pattern designer, Nicole Mallalieu, shares an array of unique tips and tricks to construct your new favorite weekend-away bag. Featuring copious straps, clasps, and pockets, this roomy bag can be customized using a combination of your favorite fabrics. Although it is highly detailed and includes many steps, Nicole's expert knowledge and extensive teaching experience will give sewists the confidence to make this skill-building bag step by step.
Learn how to:
Block fuse and cut fabric accurately and efficiently
Make and attach a four-fold bag strap
Make and insert an outside zipper pocket to a bag
Attach O-rings and snap hooks to a four-fold strap
Make and insert bag lining with custom-sized slot pockets
Make a steady bag base and insert purse feet
Insert a zipper closure to the top of a bag
Make and attach an adjustable four-fold shoulder strap using a slider
What You'll Get:
Step-by-step expert instruction on making a weekend-away bag
7 HD video lessons you can access online anytime, anywhere
Detailed supplies list and downloadable PDF with pattern pieces ($16 value)
The ability to leave comments, ask questions, and interact with other students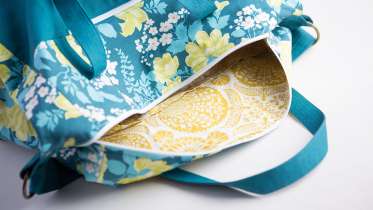 Chapters
Sew a Weekender Bag
Introduction
Prepare Fabric and Sew Outer Bag
Sew Lining and Finish Bag
Materials
Here's what you'll need:
Main fabric: 56" duck cloth, denim, or sateen (any medium-weight fabric slightly heavier than quilting fabric)
Contrasting fabric: 27" quilting-weight fabric (or a light sateen or duck cloth)
Lining fabric: 50" quilting-weight fabric
100" x 20" fusible woven interfacing (Pellon Shape-Flex)
1 yard fusible fleece (such as Vilene H640 or Pellon 987F)
24" separating or open zipper (for the top of bag)
Two 8" dress zippers (for the pockets)
18" x 8 1/2" piece template plastic
18" x 8 1/2" piece Pelmet interfacing (such as Decofuse or Vilene S520)
10" x 4" piece non-woven fusible interfacing (such as Vilense S320 or Pellon Craft-Fuse)
8" x 12" piece fusible webbing
Quilt basting spray
Two snap hooks with a ½" to 5/8" loop
Six large purse feet
Two 2" O-rings (1 1/2" minimum)
2" slide adjuster
¼" wide fusible tape
Fabric markers or pencils
Hera marker (similar to a bone folder)
Fabric glue stick pen
Office glue stick
Hole punch or saddlers punch
Tailors awl
Seam ripper
Pins
5/8" wooden dowel
1" stick of quad molding from a hardware store, for pressing open hard to reach shoulder strap seams
Mallet or hammer
Quilting ruler
Scissors (Nicole uses applique scissors, but normal sewing scissors will work)
Rotary cutter and mat
Craft knife
Rubber gloves
Sewing machine
Matching thread for both outer fabrics and lining fabric
Hand-sewing needles
Zipper foot
Edge stitching foot (optional, less advanced sewers might find this useful)
Iron
Ironing surface
Pressing cloth
PDF Pattern
Downloads: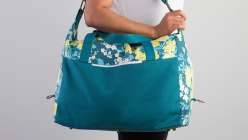 Browse members' projects from this class and share your own work! Learn how to take great photos
here
.
Notes
Your timecode tags and notes for this section
Who's Recently Taken This Class
Meet other Creativebug crafters who have recently taken this class.