Create your own linen and leather bag with the expert guidance of Elke Bergeron. Elke shows you how to sew a classic bucket bag, plus she shows you how to make a beautiful leather shoulder strap and a coordinating leather tassel. This class provides a foundation in basic sewing and leather-working skills, and results in a gorgeous handbag, perfect for year-round use.
Here's what you'll need:
For bag:
18" x 36" piece of linen or canvas for outer shell
18" x 36" piece of linen or canvas for lining
15" x 12" piece of lining fabric for pocket
Iron and ironing surface
Tailor's chalk
Ruler
Scissors
Sewing pins
Sewing machine
Coordinating thread
Additional materials for leather strap and tassel (all leather working supplies can be found at tandyleather.com)
8-9 oz veg tan belting leather, at least 23" long and 2" wide
Lighter quality veg tan leather for tassel, about 18" long and 2" wide
1 ½" brass ring for tassel (can be found at BuckleGuy.com)
Rivet setter or hand press
Scrap leather for rivet washers
10 rivets, size medium
Tape measure
Poly board cutting mat
Poly hammer
Rotary cutter
Strap cutter
1/8" leather punch (Elke uses the Mini Leather Punch Set)
XS leather punch, for stitching
Water
2 sponges
Edge bevel, size 3 or 4 (depending on size of leather)
Edge burnisher
Leather conditioner
Awl
Marker or pen
Downloads:
Learn how to:
Sew bag exterior and lining
Add an interior pocket
Cut a leather strap with a strap cutter
Bevel and burnish leather
Condition leather
Punch holes in leather
Create leather washers for rivets
Use rivets to attach straps to bag
Make a leather tassel and attach it to bag
What You'll Get:
Step-by-step expert instruction on how to sew a linen bucket bag
5 HD video lessons you can access online anytime, anywhere
Detailed supplies list
The ability to leave comments, ask questions, and interact with other students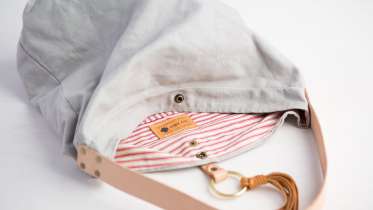 Browse members' projects from this class and share your own work! Learn how to take great photos
here
.
Class PDF
Transcript
Notes
Your timecode tags and notes for this section
Class Reviews
492 users recommended this class to a friend

g...@hotmail.com
I am currently working on this project and I would enjoy another class like this
More than 3 months ago

Heather Wicht
Really easy to follow. Lots of versatile skills were introduced. It was a good introduction to some basic leatherworking skills and tools. I now feel like I have a great template for creating variations. Thanks!
More than 3 months ago