With its trademark slouchy silhouette, this boho bag will become your go-to everyday purse. Nicole Mallalieu is known for her professionally finished bags, and in this class she walks you through every step of sewing this classic fashion staple. Nicole shares pro tips for accurately cutting the pattern pieces, as well as useful tricks for finishing seams perfectly, sewing curves, and sewing through multiple layers – all on a home sewing machine. You'll learn how to construct a lining, add a pocket and zipper, as well as how to construct an adjustable strap and attach it to the bag with hardware. In the process of making your boho bag, you'll learn loads of essential bag making skills, which will come in handy for future projects.
Here's what you'll need:
1 yard of medium-weight fabric (Nicole uses micro-fiber suede)
24" of lining fabric (Nicole uses quilting cotton)
90" of woven interfacing
Scraps of heavyweight non-woven interfacing (Nicole uses Pelmut or Peltex interfacing)
Patterns pieces (provided in the PDF)
Layplan (provided in PDF)
1/2" diameter dowel
Stick of quad or hardware store wooden moulding (Nicky will show a trick for using moulding as an ironing surface)
Pinking shears
Scissors
Quilting ruler
Cutting mat
Rotary cutter
Clear drying craft glue
Rubber gloves
Pins
Marking pencil or pen
Glue stick pen
Tailor's awl
Seam ripper
Point cutter or Excato knife
Hand sewing needles
2 qty - 1 1/4 or 1 ½ O rings
Twist lock closure
6" zipper
1 1/2" slide adjuster
Edge stitching foot
Zipper foot
Matching thread
1/4" fusible tape
Iron
Ironing board
Pressing cloth
Sewing machine
Downloads:
Learn how to:
Sew a boho style bag
Construct professional finishes
Effectively sew curves
Make an adjustable strap
Add a pocket and zipper
What you'll get:
Step-by-step expert instruction on making a professional looking boho bag
7 HD video lessons you can access online anytime, anywhere
Detailed supplies list and downloadable PDF with pattern pieces ($16 value)
Step-by-step expert instruction from designer Nicole Mallalieu
The ability to leave comments, ask questions, and interact with other students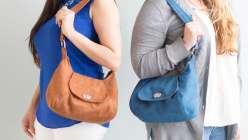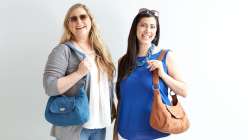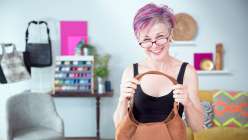 Browse members' projects from this class and share your own work! Learn how to take great photos
here
.
Class PDF
Transcript
Notes
Your timecode tags and notes for this section
Class Reviews
132 users recommended this class to a friend

Marilyn Hoff
This is the first video I've watched where the zipper tape is covered inside the bag.
November 14, 2022

Kristy Aeschbocker
Great class! Wonderful instruction and encouragement so we can make this too. I'm glad to know about microfiber and how easy it is to work with. Thank you so much!
October 10, 2022