Punch needle embroidery has taken the craft world by storm, and Arounna Khounnoraj of Bookhou is at the helm of this movement. In this thorough workshop, Arounna gives the traditional craft of punch needle embroidery a modern makeover and shows how you can do the same. You will not only learn the fundamentals of how to use the punch needle tool, but also how to create a successful design from scratch and punch it up quickly with bulky weight wool. Along the way, Arounna troubleshoots potential issues and shows you how to bind off your piece to make a wall hanging, trivet or stool cover.
Here's what you'll need:
Oxford punch needle tool - size #10 for ¼" loops (you can find one at Bookhou or at AmyOxford.com)
Monks cloth with 13 holes per inch (you can find this by the yard at Joann.com or buy it pre-stretched at Bookhou)
12" wood frame or stretcher bars (you can find this at Joann.com - you'll need to buy 2 sets to make a full frame)
Light-duty staple gun (Arounna uses this one)
Mallet
Pencil and eraser
Watercolor and watercolor paper (optional)
Sketch paper
Fine-tipped Sharpie
Bulky weight wool yarn (Arounna recommends Patons Classic Wool Roving yarn)
Tapestry needle
Scissors
Tape
Clothespin (optional)
Downloads:
Learn how to:
Use a punch needle tool
Draw inspiration from yarn
Paint a design on canvas
Prepare a frame
Transfer a pattern onto canvas
Finish a punch needle piece
What you'll get:
Step-by-step expert instruction from Arounna Khounnoraj of Bookhou on how to create your own punch needle design
8 HD video lessons you can access online anytime, anywhere
Detailed supplies list
The ability to leave comments, ask questions, and interact with other students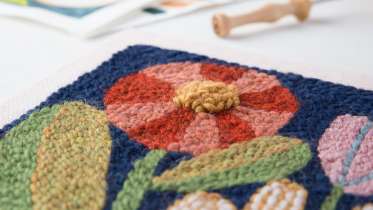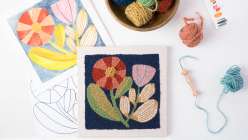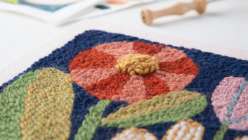 Browse members' projects from this class and share your own work! Learn how to take great photos
here
.
Class PDF
Transcript
Notes
Your timecode tags and notes for this section
Class Reviews
1126 users recommended this class to a friend

Kristy Aeschbocker
Thank you, this is a great class! I had forgotten about this type of art. I do struggle with finding different items to make rather than just wall art or pillows. Excellent instruction!
October 10, 2022