Design and make beautifully beaded jewelry with Tracey-Renee Hubbard, designer and founder of the vibrant accessories brand Scotchbonnet! She guides you through the process of developing a cohesive jewelry collection, beginning with the assembly of a mood board to find your aesthetic. Then, learn how to map out a beaded design on paper and prepare a Jewel Loom to weave your beads. Finally, Tracey-Renee demonstrates how to mount your beadwork to a brass cuff or barrette and show off your stylish new creation.
Learn how to:
Make a beaded cuff with a Jewel Loom
Create a mood board to guide a cohesive jewelry collection
Design a beaded pattern with graph paper
Thread a bead loom and weave in beads
Mount a beaded project to a bracelet or barette
What you'll get:
Instructions on how to use a Jewel Loom to make beaded jewelry
5 HD video lessons you can access online anytime, anywhere
Step-by-step expert instruction from Tracey Renee-Hubbard of Scotchbonnet!
The ability to leave comments, ask questions, and interact with other students
Chapters
Jewelry Design with Scotchbonnet!: Working With a Bead Loom
Materials
Here's what you'll need:
For the mood board:
Foam board - Tracey-Renee uses one that is 24 x 18"
Push pins
Various images and materials that inspire you such as cut-out images and text from magazines, fabric swatches, paint swatches, souvenirs/ephemera, beads, natural elements
​For the beaded cuff:
Size 11/0 seed beads in colors inspired by your mood board (Tracey-Renee uses black, white, orange, yellow, and purple)
Colored pencils to match your seed beads
Graph paper
Brass cuff (1/2" width)
Jewel Loom (comes with a needle)
Wildfire beading thread .006 inches - Tracey-Renee uses black but you can choose a color to complement your palette
Gorilla Super Glue Gel
Craft sticks or popsicle sticks
Tape measure
Bead scoop (optional)
Chain-nose pliers (optional)
Non-slip surface like a piece of felt to pour out beads (optional)
Downloads: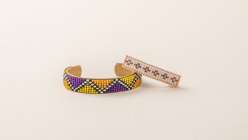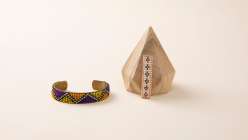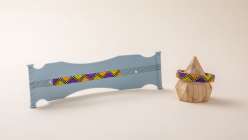 Browse members' projects from this class and share your own work! Learn how to take great photos
here
.
Notes
Your timecode tags and notes for this section
Who's Recently Taken This Class
Meet other Creativebug crafters who have recently taken this class.