Use text-weight paper and a few simple folds to construct an entire galaxy. In this class paper-crafter Faith Hale demonstrates three different structures: a spaceship, a planet, and a small star you'll make handfuls of. Try it now and discover which one is inflatable! With Faith's enthusiastic guidance and clear instructions, you'll make enough stars for your own milky way.
Here's what you'll need:
Bone folder
For star: strips ½" x 8½" or Daiso Origami Star Paper in 25cm x 1cm sheets
For spaceship: 7 ½" x 5 ½"
For planet: square at least 7 ½" x 7 ½", printed planet images from nasa.gov
Downloads:
Learn how to:
Make an origami star
Make an origami orb
Make an origami spaceship
What you'll get:
Detailed instruction on how to three origami shapes
3 HD video lessons you can access online anytime, anywhere
Detailed supply list
Step-by-step instruction by expert instructor Faith Hale
The ability to leave comments, ask question and interact with other students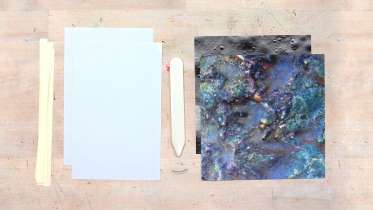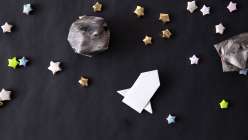 Browse members' projects from this class and share your own work! Learn how to take great photos
here
.
Class PDF
Transcript
Notes
Your timecode tags and notes for this section
Class Reviews
136 users recommended this class to a friend
Sarah Johnson
Faith, you are the best! Enjoyed this class, I can't wait to make this awesome space-themed things!
More than 3 months ago

Granny Granny
Faith explained each step so well and with easy instructions. A great project to do with kids.
More than 3 months ago