Total Time: 1 hour 35 mins 5 secs
Learn the basics of making one-of-a-kind woven tapestries with Annabel Wrigley. This course goes beyond simple warp-and-weft weaving, teaching you how to add long, dramatic fringe, color-blocked shapes, fluffy clouds of wool roving, and loads of texture and color. Best of all, Annabel teaches you how to mix and match all of these techniques so that you can design a unique tapestry of your own in any size you like.

Intro to Weaving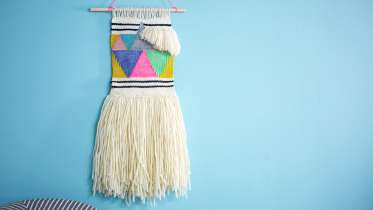 Part 1:
Intro to Weaving: Basic Weaving Techniques
Annabel Wrigley
Annabel begins by showing you how to build your own loom using an inexpensive frame and nails, and then demonstrates how to set up the warp threads. Using any yarn you like, you'll learn the basic over-under motion of classic weaving, and once you've mastered the essentials, you'll learn how to create fringe, stripes, and colorful shapes. At the end of this first class, Annabel shows you how to take the weaving off the loom and turn it into a wall hanging.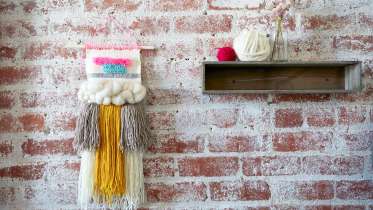 Part 2:
Intro to Weaving: More Complex Weaving Techniques
Annabel Wrigley
Now that you've set up your loom and understand basic weaving techniques, you're ready to learn some new textural stitches. Annabel begins by introducing you to wool roving, showing how to use this thick fiber to create fluffy cloud-like sections. She also shows how to work the Soumak stitch, which creates neatly braided rows, as well as more textured pile stitches, like Pulled Loops and short Rya fringe. She concludes this course by showing you alternate ways to finish and display your woven pieces once they're off the loom.
Who's Recently Taken This Class
Meet other Creativebug crafters who have recently taken this class.