Playing with Surface Design
Total Time: 1 hour 35 mins 14 secs
You don't need a background in art to create beautiful surface designs on paper and fabric. Join Courtney Cerruti as she leads you through a series of exercises from her book Playing with Surface Design: Modern Techniques for Painting, Stamping, Printing and More. In this three-part series, you will learn creative ways to play with paint, markers, and stamps, plus a simple form of printmaking called monoprinting. Combine all of these lessons to create layered, textural surfaces that can be used as cards, wrapping paper, fabric yardage and more.

Playing with Surface Design
Part 1:
Playing with Surface Design: Mark Making
Courtney Cerruti
Courtney introduces you to essential surface design techniques, showing you how to combine markings to make patterns. Using markers, paints, and a variety of application techniques, these lessons are ideal for creating designs on paper, fabric and ribbon. Courtney shares important tips on testing color combinations and combining different mediums to create vivid motifs. Loosen up and get creative with Courtney's free-flowing creative style.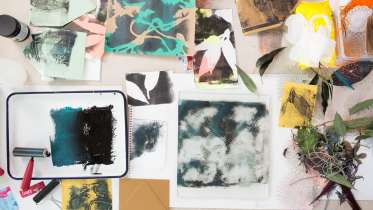 Part 2:
Playing with Surface Design: Monoprinting
Courtney Cerruti
Monoprinting is a gorgeous and unique way to make one-of-a-kind images using a simple printmaking technique. Courtney explains how to use gelli plates to make your monoprints, and shows you how to create custom stationery and small pieces worthy of hanging on the wall. This technique is also perfect for layering on the patterns you created in the first part of this course.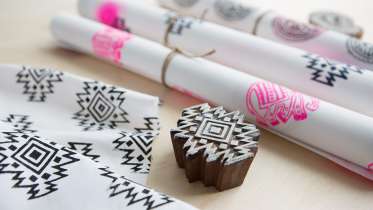 Part 3:
Playing with Surface Design: Repeat Patterns
Courtney Cerruti
Learn how to create large-scale patterns to use for fabric or wrapping paper in the final part of this course. Courtney teaches you how to use block stamps to make different styles of repeating patterns, from organized and symmetrical to loose and random. With just a few stamps and ink, you can create gorgeous custom papers and fabrics.
Who's Recently Taken This Class
Meet other Creativebug crafters who have recently taken this class.