Endless possibilities for paint texture and hue can be at your fingertips. Color luminary Lisa Solomon is here with tips to make, refine, and properly store your own paint. The process is satisfying and fun to watch. You can work with the finest tools, or figure it out with some regular household items. Paint requires a pigment and a binder, and Lisa will share all her techniques for how to add the magic. Create an archive of color test sheets that any professional would envy.
Learn how to:
Make watercolor paint
Make oil paint
Make acrylic paint
Make your own gum arabic solution as a binder for watercolor paint
Store paint properly
Make test sheets of the colors you made
What you'll get:
An 8-part series of easy-to-follow video lessons on how to make and properly store your own paint
10 HD video lessons you can access online anytime, anywhere
Detailed supply list, including a robust PDF filled with resources
Step-by-step instructions from author, artist and educator, Lisa Solomon
The ability to leave comments, ask questions and interact with other students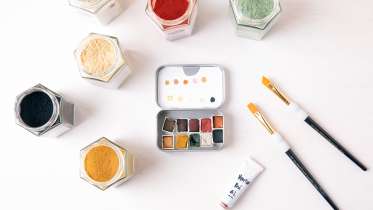 Chapters
Make Your Own Paint Using Pigments
Making paint
Test sheets
Materials
Here's what you'll need:
For an extensive list of Lisa's resources and links, download the class PDF
Assortment of pigments:

Kremer pigments
Jacquard pigments
Earth pigments (such as Color Rare)
Mica pigments (such as Soap Beautiful)

Windsor and Newton gum arabic solution (or make your own, see below)
Vegetable glycerin
Isopropyl alcohol
Glass tile or glass cutting board
Glass muller or mason jar weight or jar with stones
Palette knives
Pliers to close tubes
Paper towels
Baby wipes
Gloves
Dust mask
Whisk
Set of measuring cups
Set of measuring spoons
Liquitex matte medium or gloss medium or acrylic polymer
Empty 6 x 14ml paint tubes
Round tins/ "Altoid"-size tins (3.75 x 2.45 x 0.8 Inch)
Jars with lids
Linseed oil
Paintbrushes
Meeden watercolor tins and loose half pans to insert
Bee Paper mixed media paper (optional)
Fluid brand hot press watercolor paper (optional)
Gum arabic recipe materials: distilled water/ honey/ clove or thyme oil / hot water (optional)
Pigments shown/used onscreen:
Vine Black by Kremer
Brentonico Green by Color Rare
Yellow Oxide by Douglas & Sturgess
Quinacridone Magenta from Sinopia.com
Silk Purple by Soap Beautiful
Venetian Red by Kremer
Flamingo Pink by Jacquard
Burnt Umber & Buff Titanium pigments by Color Rare mixed together to make "Mocha"
Downloads: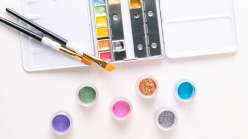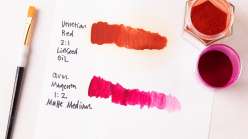 Browse members' projects from this class and share your own work! Learn how to take great photos
here
.
Notes
Your timecode tags and notes for this section
Who's Recently Taken This Class
Meet other Creativebug crafters who have recently taken this class.