Craft a moment suspended in time using the distinctive properties of resin. While the medium has a reputation for being messy and complicated, Creativebug instructor Twinkie Chan demonstrates how attention to detail can lead to a mesmerizing outcome. Using a basic paperweight as a simple introductory project, you'll learn how to select and mix resin, then assemble your project. You'll see how some inclusions need to be treated differently and the advantages of working in layers. You can use your finished paperweights as pattern weights for sewing, for sending inspirational messages to friends, or for capturing life's special moments in a unique way.
Here's what you'll need:
Unicone Art 2-part epoxy casting resin 16 oz. kit (you can use any brand of 2-part epoxy casting resin)
4-5 oz. silicone paperweight molds - Twinkie is using soap molds
2-3 plastic measuring cups that can hold at least 4 oz.
Stack of smaller paper or plastic cups for pouring and mixing
Plastic mixing spatulas or popsicle sticks
Toothpicks
Tweezers
Silicone mat, parchment paper, wax paper, plastic sheet or cardboard to protect your work surface
A smaller piece of coardboard or a tray to place under your project and a cardboard box or plastic bin large enough to cover your project
A lighter, small kitchen torch, heat gun, or straw for popping small bubbles
Paper towels and small spray bottle of alcohol or acetone for cleaning
Different grades of wet/dry sand paper (from about 120 up to 1000) plus a shallow dish or pan that the sand paper fits inside OR regular sand paper plus a particle mask for your protection
Several pairs of nitrile gloves
Recommended for safety: safety glasses, long-sleeved shirt, respirator mask with N95 or equivalent rating
Clear Cast Resin and Finishing Spray (optional)
Resin Colorants - you can use a variety of paints and dyes to color resin. Successful results can be obtained with all of the following:
Acrylic paint
Watercolor paint
Food coloring
Alcohol ink (be sure to avoid the use of a lighter or torch when using alcohol ink)
Mica powder
Pigment powder
Pigment paste
Resin dye
Nail polish
Eye shadow
Glitter
Inclusions - swatch and experiment with inclusions, such as paper/photos/magazines, pressed flowers, rocks, glitter, fabric, yarn, candy, polymer clay objects, and plastic toys. Any food or flowers should be fully dried.
Specific materials used in the class projects
Swatching - candy mold, a variety of colorants
Plastic Toys paperweight - 4-5 oz. oval silicone soap mold, small plastic toys, plastic letter beads, Color Pour opaque resin colorant in teal and white
Photo/flower paperweight - 4-5 oz. square silicone soap mold, Photos printed on bright white paper, small pressed flowers, fine pink glitter, Options for sealing: Mod Podge and a brush, acrylic spray sealant or Clear Cast Resin and Finishing Spray, or good quality packing tape
Downloads:
Learn how to:
Make fun and colorful paperweights with epoxy casting resin
Measure, mix and pour resin
Work with resin safely
Color resin with dyes, paints, and pigments
Cast porous and non-porous objects
Prepare non-porous objects for resin
Pour resin in layers
What you'll get:
Instructions on how to make paperweights out of resin
6 HD video lessons you can access online anytime, anywhere
Detailed supplies list
Step-by-step expert instruction from artist Twinkie Chan
The ability to leave comments, ask questions, and interact with other students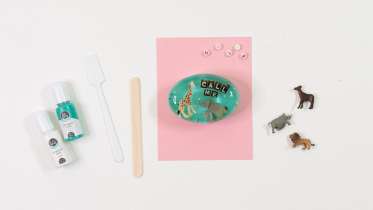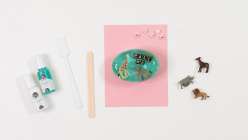 Browse members' projects from this class and share your own work! Learn how to take great photos
here
.
Class PDF
Transcript
Notes
Your timecode tags and notes for this section
Class Reviews
58 users recommended this class to a friend

Linda Day
What a great class, filled with many practical ideas and tips. I have taken a "professional" course to learn how to work with resin. But I think I learned much more here with Twinkie! She really knows her craft and is great at giving it over!!
September 27, 2022

Veronica Vogt
I learned that pouring resin is pretty complicated. But if you have something you really want to keep forever, this would be the way to go.
September 26, 2022