Learn how to transform painted cotton fabric into bold, abstract wall décor. Using expressive brush strokes in a color palette of your choice, Courtney Cerruti shows you how to paint abstractly on fabric, then "frame" your painted fabric in embroidery hoops. The finished pieces are lightweight and super easy to hang – perfect for sprucing up a bedroom or making any space your own.
Here's what you'll need:
2 yards lightweight white cotton fabric
Spray bottle
Acrylic craft paints in a colors of your choice (Courtney uses FolkArt paints in teal blues, purples, red and pink)
Jar of water
Embroidery hoops in a variety of sizes (Courtney uses 4"; 6"; 8"; and 10" hoops)
Painting pallete
2" – 3"-wide coarse-bristled paintbrushes
Foam brush
Utility knife
Kraft paper or other scrap material to protect your work surface
Scissors
Downloads:
Learn how to:
Use abstract painting techniques
Paint on fabric
Decide which parts of your painting to frame in embroidery hoops
Give your mounted fabric a clean finish
Hang your finished wall art
What you'll get:
Step-by-step expert instruction from Courtney Cerruti on DIY room decor
A quick video lesson you can access online anytime, anywhere
Detailed supplies list and downloadable PDF included
The ability to leave comments, ask questions, and interact with other students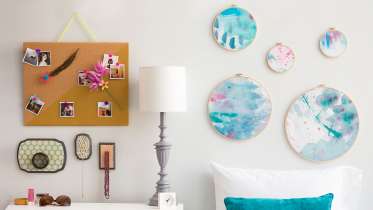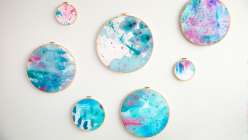 Browse members' projects from this class and share your own work! Learn how to take great photos
here
.
Class PDF
Transcript
Notes
Your timecode tags and notes for this section
Class Reviews
437 users recommended this class to a friend
A Black
This is so beautiful! I love the colors and the abstract patterns and the different sizes of the circles. I would definitely try this.
More than 3 months ago

Regina Fujan
It's not my kind of "Art". This is more suited to dorm rooms and apartments.
More than 3 months ago