Oversized letters are a fabulous way to add artful personality to any space. Kyra Valentine, Content Studio Manager at Plaid Crafts, takes you through three different letter projects using FolkArt paint and Mod Podge. You'll learn color blocking, masking and splatter techniques, and how to add textural interest with a fun pom-pom.
Here's what you'll need:
Wood letter
FolkArt Acrylic paint in Green Sea
FolkArt Treasure Gold paint in Gold
Paint brushes
Stencil tape
Wood letter
FolkArt Acrylic paint in Podge Pink, Navy Blue, Patina, and Titanium White
FolkArt Treasure Gold in Rose Gold
Paint brushes
Stencil tape
Toothbrush
Paper mâché letter
FolkArt Acrylic paint in Jamaican Sea
Mod Podge Ultra
Paint brush
Pencil
Yarn
Plastic cup
Cardboard
Scissors
Downloads:
Learn how to:
Work with a stencil
Use a toothbrush for interesting splatter effects
Use ModPodge and acrylic paints on a cardboard surface
What you'll get:
Step-by-step instructions from Kyra Balentine of Plaid Crafts showing you how to embellish pre-made cardboard letters
HD video lessons you can access online anytime, anywhere
Detailed supplies list
The ability to leave comments, ask questions, and interact with other students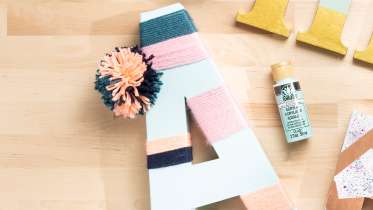 Browse members' projects from this class and share your own work! Learn how to take great photos
here
.
Class PDF
Transcript
Notes
Your timecode tags and notes for this section
Class Reviews
28 users recommended this class to a friend
Jenn N
The content was great! I think this class would be perfect for a girls' slumber party or something fun like that. The editing was not very good. There were a few times during the yarn letter that she repeated herself and it was clear she expected one of those to be edited out but they weren't edited out. There was a point during the splatter letter that I could hear men in the background. I just think the editors should pay a little more attention but I think the class itself was fantastic for teenage girls!
More than 3 months ago