Artist and educator Courtney Cerruti has an enthusiasm for the postal system that is both abundant and contagious, and she demonstrates that you don't need elaborate materials or even perfect handwriting to spread joy through the mail. In this class, be inspired to make unique postcards, address envelopes decoratively, and try out wax seals. She shares her favorite materials, postal requirement guides, and an addressing template that creates tidy envelopes every time. Most importantly, you'll discover that postal bliss is just a stamp away.
Here's what you'll need:
Nice quality printer paper – Courtney is using Strathmore writing paper 6x8 and 8.5x11
Postcards or cardstock – Courtney is using Paper Source Flat cards in A6 (4x6) or A7 (5x7)
Variety of sizes and colors of envelopes, including clear plastic
Postal stamps – postcard, letter, and international rate
Acrylic or craft paint
Plastic bowl scraper, soft ceramics rib, or plastic card
Stamps and ink pad for multi-surfaces -- Courtney is using stamps from Le Tampographe Sardon in Paris and Yellow Owl Workshop
Variety of pens – Courtney suggests JetPens Sampler Pack
Gelly Roll metallic and white pens for black paper
Sakura Permapaque paint markers
Washi tape
Wax and wax seal stamps, and candle for melting
To make Addressing Guide: manila folder, push pin, ruler, cutting mat, X-Acto knife, template in PDF printed out
Scratch or wax paper and baby wipes (optional)
Downloads:
Learn how to:
Embellish postcards or design your own
Know the requirements for envelope sizes and postage rates
Make artful envelopes in many different ways
Address envelopes neatly
Use a wax seal
What you'l get:
Instructions on how to make and send postcards and letters
7 HD video lessons you can access online anytime, anywhere
Detailed supplies list
Step-by-step expert instruction from artist Courtney Cerruti
The ability to leave comments, ask questions, and interact with other students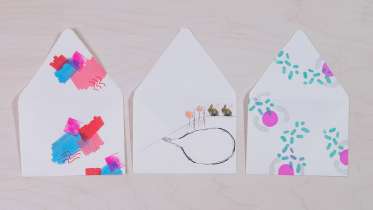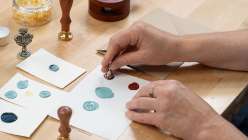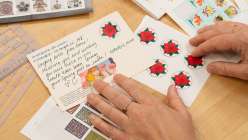 Browse members' projects from this class and share your own work! Learn how to take great photos
here
.
Class PDF
Transcript
Notes
Your timecode tags and notes for this section
Class Reviews
169 users recommended this class to a friend

Debra Schmidt
I enjoyed this class - some good ideas and great demo of the wax. Nothing too time-consuming, just interest adding!
6 days ago