Yao Cheng's rich, energetic style of painting truly comes to life when she paints outdoors. In this plein-air style class, she shares her approach to going outside to paint from life – a skill that will add new dimension to your watercolor practice. Learn how Yao works quickly to combat ever-changing light, and how she simplifies a landscape or a rose in bloom to capture the feeling of the focal point with efficient and bold brush strokes. Join Yao as she paints in various locations at San Francisco's Golden Gate Park, celebrating the beauty and simplicity of nature in all its forms.
Here's what you'll need:
Small foldable palette
Watercolor Sketchbook (Yao uses Canson Montval Field Watercolor, 11" x 14")
Watercolor brushes (Yao uses Princeton Art & Brush Rounds - 4050R 6, 12, 16; Neptune 8; Velvetouch 8)
Winsor & Newton Professional Watercolors (Yao uses Winsor Lemon, Winsor Yellow, Winsor Yellow Deep, Yellow Ochre, Orange [Red Shade], Scarlet Lake, Opera Rose, Permanent Magenta, Permanent Sap Green, Hooker's Green, Cobalt Turquoise Light, Manganese Blue Hue, Ultramarine Blue [Green Shade], Ultramarine Violet, Brown Ochre, Burnt Umber, Sepia, Ivory Black)
Brush travel pouch
Small water jar with screw top
Paper towels
Sunscreen and a hat
Downloads:
Learn how to:
Paint outdoors
Simplify a landscape into its basic elements
Work quickly to capture the changing light and environment
Mix colors as you go
Paint a landscape with a foreground, background and focal point
Paint close-up flower studies
What you'll get:
Instruction on how paint outdoors, with special focus on landscapes and floral studies
7 HD video lessons you can access online anytime, anywhere
Detailed supplies list for easy shopping
Step-by-step expert instruction from Yao Cheng
The ability to leave comments, ask questions, and interact with other students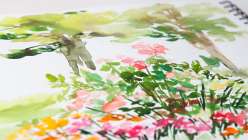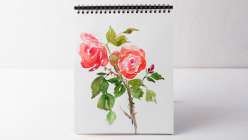 Browse members' projects from this class and share your own work! Learn how to take great photos
here
.
Class PDF
Transcript
Notes
Your timecode tags and notes for this section
Class Reviews
429 users recommended this class to a friend
Gina Telling
It was a good class, but I feel like she could have explained everything a little better, everything she was painting I mean.
More than 3 months ago