Stefanie from Wilton demonstrates some simple tips and tricks for mastering the art of lettering with buttercream. Learn about various decorating bag tips, how to do freehand lettering, and how to follow a template to produce cursive letters. With a little practice, you'll soon be a pro at picture-perfect cake writing.
Here's what you'll need:
Ingredients for buttercream icing (thin consistency; to obtain proper consistency you can add corn syrup or use piping gel)
1/2 cup solid vegetable shortening
1/2 cup (1 stick) butter or margarine, softened
1 teaspoon Wilton Imitation Clear Vanilla Extract
4 cups sifted confectioners' sugar (approx. 1 lb.)
2 tablespoons milk or water, plus extra for thinning
Tools & Materials
Decorating bags
Decorating bag tips: 3, 5, 13, 18, and 47
Color Right Performance Color System (suggested for coloring icing, if desired)
Spatula
Parchment paper sheets
Cakeboard (optional; suggested for practice)
Toothpicks (optional)
Dental floss (optional)
Cornstarch or confectioner's sugar (optional)
Downloads:
Learn how to:
Print icing letters
Produce fun effects with different decorating bag tips
Practice writing in cursive using a print-out
Use toothpicks and dental floss to help you freehand print on a cake
What you'll get:
Step-by-step expert instruction from the Wilton Instructors on cake writting
A quick video lesson you can access online anytime, anywhere
Detailed supplies list
The ability to leave comments, ask questions, and interact with other students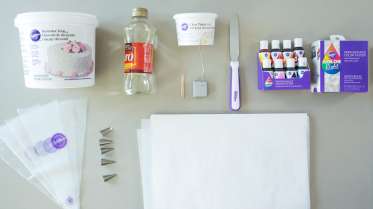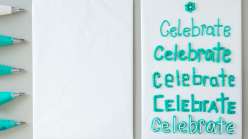 Browse members' projects from this class and share your own work! Learn how to take great photos
here
.
Class PDF
Transcript
Notes
Your timecode tags and notes for this section
Class Reviews
238 users recommended this class to a friend

Martha Roush
Writing always takes practice and she had some good tips (no pun intendded)
October 7, 2022