Katia Ferris's best-selling Luckyjuju dolls are much beloved by collectors and families alike. Now, with the line's inaugural pattern release, you can stitch up a stuffed "lovie" of your very own. Known for her beautiful designs and impeccable craftsmanship, Katia talks you through fabric selection, assembly, and how to create personality with embroidered facial details. Once you've stitched together your puppy doll using the exclusive pattern and added a knit i-cord scarf to top off the look, you'll see a world of possibilities for adding sweet accessories to your treasured heirloom.
Here's what you'll need:
Pattern PDF
2-3 pieces mid-weight woven fabric
100% wool felt
Embroidery floss in pink and black
Embroidery needle
Black fabric marker - Katia prefers Pentel Gell Roller Pen for Fabric
Polyfill stuffing
Tweezers
Paper scissors
Fabric scissors
Snips
Pinking shears (optional)
Glass head pins
Marking pen
Chopstick
Iron and ironing surface
Machine and coordinating thread
For scarf: size 10 DPNs, darning needle, 25 yds of chunky wool
A bonus Puppy Doll knit sweater pattern can be found at Katia's website here.
Downloads:
Learn how to:
Work with a paper pattern
Hand-embroider details for personality
Assemble a doll and clip corners for smooth seams
Thoroughly stuff a doll to a professional standard
Sew an opening closed by hand
Knit an i-cord
What you'll get:
Detailed lesson how to design and sew a Luckyjuju Puppy Doll
5 HD video lessons you can access online anytime, anywhere
Detailed supplies list and PDF pattern
Step-by-step expert instruction from Katia Ferris
The ability to leave comments, ask questions, and interact with other students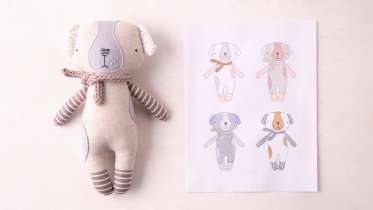 Browse members' projects from this class and share your own work! Learn how to take great photos
here
.
Class PDF
Transcript
Notes
Your timecode tags and notes for this section
Class Reviews
399 users recommended this class to a friend

Yana Bedareva
wow!!! so detailed video with good explanation. Every step is clear and i have no more questions. Iam happy with all information and looking forward to sew this cutie.
November 11, 2022
Stacy C. Oakley
Instructions were clear and detailed. And the finished product is adorable!
October 17, 2022