Sometimes you want more than a toothy jack-o-lantern welcoming Halloween guests to your front porch or dining room table. Courtney shows you how to borrow techniques from printmaking to create fanciful carved designs – in addition to some quick, non-carving ideas. You'll have plenty of ideas for adding elegant silhouettes, glitter and geometric designs to your Halloween décor.
Here's what you'll need:
Carved Pumpkin:
hollowed out pumpkin
black and white high contrast image
sturdy pin
top of canning jar
printmaking/carving tools
tape
Painted Pumpkins:
pumpkin
oil based paint pens (Courtney uses broad line DecoColor pens)
gold leafing pens (Courtney uses Krylon Gold Leafing Pens)
Glittered Pumpkins:
small pumpkin
PVA glue (book binding glue)
fine glitter
glue brushes
scratch paper
Downloads:
Learn how to:
Borrow techniques from printmaking to design
Use non-carving ideas
Make geometric designs
What you'll get:
An easy-to-follow video lesson on Halloween pumpkin carving
5 HD video lessons you can access online anytime, anywhere
Itemized supply list
Step-by-step expert instruction from artist Courtney Cerruti
The ability to leave comments, ask questions and interact with other students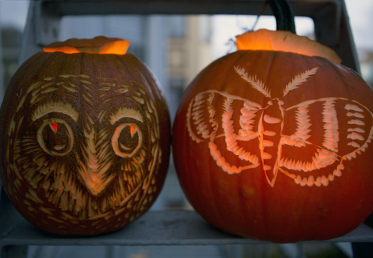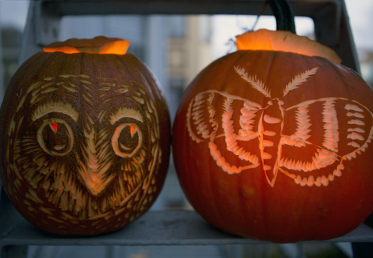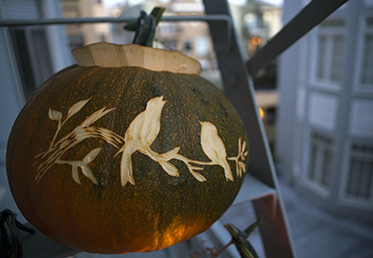 Browse members' projects from this class and share your own work! Learn how to take great photos
here
.
Class PDF
Transcript
Notes
Your timecode tags and notes for this section
Class Reviews
64 users recommended this class to a friend

Christie Sylvester
Great tips and tricks on alternative pumpkin carving and decorating.
More than 3 months ago
Charlotte Canning
What a great lesson. I have carved pumpkins before, but never tried the surface carving. They look amazing. I definitely want to try this technique.
More than 3 months ago