We all have fond memories of the classic science fair volcano experiment, but it's time to give that baking soda project a super fun update. PhD chemist and crafter Jamie Hudson shows you how to turn that same chemical reaction into a spouting whale or a drooling Pavlov's dog. You just need a few basic household supplies and your Cricut to put together zany new friends while also learning a little about chemistry as well as conditioned responses.
Learn how to:
Cut animal shapes out of corrugated cardboard with a Cricut
Use Cricut Design Space software
Create a fun and safe chemical reaction with household items
What you'll get:
Step-by-step instructions from Jamie Hudson showing you how to make a foaming creature
HD video lessons you can access online anytime, anywhere
Detailed supplies list and downloadable SVG files
The ability to leave comments, ask questions, and interact with other students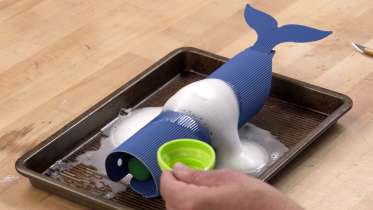 Chapters
STEAM: Make a Foaming Pavlov's Dog
Materials
Here's what you'll need:
Vinegar, baking soda
16 oz Plastic bottle
Dish soap
Food coloring (optional)
Water
Small funnel
Cricut Corrugated Cardboard 1-sided (2 pieces)
Cricut Maker and mobile device to access Design Space
Baking tray
Light grip mat
Cricut fine point knife blade
X-acto knife
Tape
Downloads:
Browse members' projects from this class and share your own work! Learn how to take great photos
here
.
Notes
Your timecode tags and notes for this section
Who's Recently Taken This Class
Meet other Creativebug crafters who have recently taken this class.